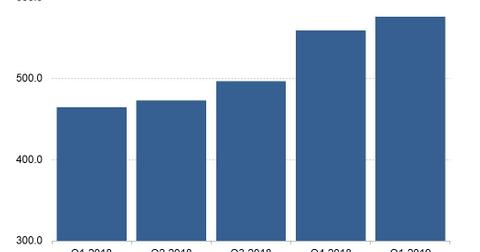 Lyft and Uber to Help Yandex Plan for a Taxi Unit IPO
By Ruchi Gupta

Updated
YandexTaxis is profitable
Yandex (YNDX) is planning an IPO of its taxi business, YandexTaxi, which it co-owns with US ride-hailing giant Uber (UBER).
Speaking with CNBC last month, Yandex CFO Greg Abovsky said the company was drawing lessons from the IPOs of Lyft (LYFT) and Uber as it plans for the IPO of its own taxi business. Lyft went public in March while Uber went public just recently, on May 10. Yandex isn't saying when exactly it expects to launch an IPO for its taxi business.
YandexTaxi operates in 15 countries and is the leader in Russia's ride-hailing market. The business is profitable, and its revenue is growing at a triple-digit rate.
Article continues below advertisement
Yandex owns a majority stake in YandexTaxi
YandexTaxi formed after Yandex and Uber merged their ride-hailing businesses that were competing against each other. At the close of the merger in February 2018, Yandex owned a 59.3% stake in YandexTaxi while Uber held a stake of 36.9% in the business. A stake of 3.8% was reserved for employees.
Yandex derived $116.7 million revenue from its taxi business
Yandex booked revenue of $116.7 million from its YandexTaxi stake in the first quarter of 2019. Yandex's total revenue for the quarter was $576 million, up 40% year-over-year. Google parent Alphabet (GOOGL) recorded revenue growth of 17% year-over-year in the first quarter. Alphabet is also into the ride-hailing business through its Waymo subsidiary. Baidu (BIDU), a peer of Yandex and Google in the Internet search engine business, is pursuing plans to launch a ride-hailing service in China. It partnered with Ford Motor (F) and Volvo last year on autonomous taxi programs in China.