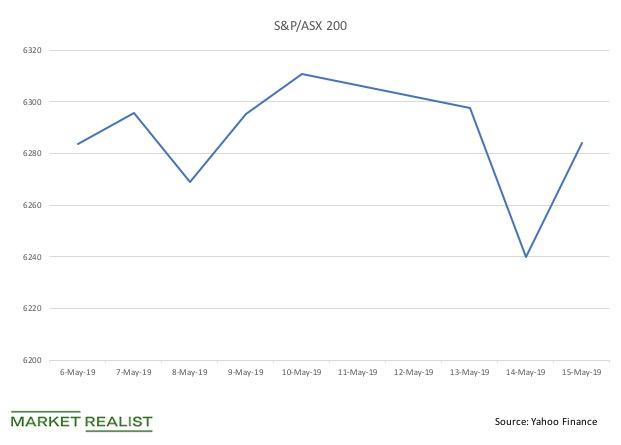 KOSPI, ASX 200, and NZ 50 Gain, Singapore Index Is in the Red
By Mike Sonnenberg

Nov. 20 2020, Updated 1:52 p.m. ET
KOSPI follows China
South Korea's KOSPI remained in the green on May 15. The index gained 0.53% on the day to end at 2,092.78. The iShares MSCI South Korea Capped ETF (EWY), which we expected to recover, gained 1.55%.
Earlier in the day, Statistics Korea released unemployment numbers for April. According to the data, the unemployment rate climbed to 4.1% from 3.8% in March 2019. It was also higher than the expectation of 3.9%.
Article continues below advertisement
Australia and NZ
Australia's benchmark S&P/ASX 200 recovered from its 0.92% loss on May 14 to post a 0.71% gain today. The index gained steadily throughout the day. Optimism about a US-China trade deal also reached the country.
Defying the trend of recovery in other Asia-Pacific ETFs, the iShares MSCI Australia ETF (EWA) closed marginally lower yesterday. We expect it to recover today in the absence of any negative news.
The iShares MSCI Pacific ex-Japan ETF (EPP), which invests in Australian and Asian equities, saw a rise of 0.42% on May 14.
New Zealand's S&P/NZ 50 gained 0.61% on May 15.
Singapore
Singapore's Straits Times ETF dropped 0.15% on May 15. The index opened lower than its May 14 close and traded choppily throughout the day before closing at 3,218.77.
As we'd expected, the iShares MSCI Singapore Capped ETF (EWS) gained 1.23% on May 14 during trading on the NYSE Arca.
The JPMorgan BetaBuilders Developed Asia ex-Japan ETF (BBAX), which also invests in Singaporean equities, gained 0.65% on May 14.