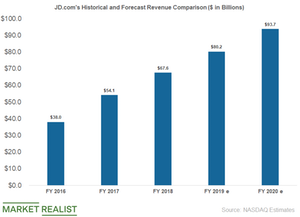 JD.com Stock Continued to Decline on May 23
By Adam Rogers

May. 24 2019, Published 9:31 a.m. ET
Stock fell 5.4% yesterday
China (FXI) tech giant JD.com (JD) fell 5.4% on May 23, 2019, to close trading at $26.70. The uncertain macro environment has weighed heavily on Chinese stocks, which are grappling with the fallout of the trade war as well. Other Chinese peers such as Sina (SINA), Baidu (BIDU), and Alibaba (BABA) also saw their stock decline by 10.1%, 4.2%, and 1.8%, respectively, yesterday.
Since the start of May 2019, JD.com stock has declined 11.8%. Despite the recent pullback, the stock is up by an impressive 27.6% this year. JD.com rallied in the first four months of 2019 after a disappointing last year, where it fell close to 52%.
Article continues below advertisement
JD.com has been impacted by the trade wars and management issues over the last 15 months. Shares are expected to remain volatile at least until the trade war issues are sorted. According to a Bloomberg report, a $200 billion increase of tariffs on China's products would result in a 0.5 percentage-point decrease for the country's GDP. A fall in GDP would directly impact consumer spending and hit the top line of Chinese companies.
Does JD.com stock have upside potential?
Wall Street expects JD.com's sales to grow by 17% to $80.21 billion in 2019 and increase 16.9% to $93.74 billion in 2020. JD.com's earnings per share are estimated to rise by 88.6% in 2019 and 51.5% in 2020. JD.com stock is currently trading at a forward PE multiple of 26.7x for 2019, and the stock looks grossly undervalued considering this multiple.
Out of the 37 analysts covering JD.com, 22 recommend a "buy," four recommend a "hold," and one recommends a "sell." The average 12-month target price for JD.com stands at $32.28, indicating an upside potential of 21% from its current price.