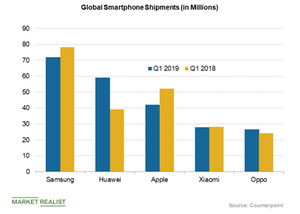 Is Huawei Really Worried about the Loss of Google's Android OS?
By Sophia Nicholson

May. 20 2019, Published 3:26 p.m. ET
Huawei's loss of Android OS
Alphabet's (GOOGL) division Google has decided not to do business with China's (MCHI) (FXI) smartphone maker Huawei after President Trump accused it of being a security risk. Further, the Chinese company has been added to the "Entity List," which means that US companies won't be able to sell products to the Chinese company without getting a license from the Bureau of Industry and Security.
However, the current Huawei holders can continue to use and download app updates provided by Google. Also, Huawei will be able to use the freely available open source version of the Android operating system, known as Android Open Source Project.
Article continues below advertisement
Impact on Huawei's international shipments
Huawei's smartphone shipments are mainly focused outside mainland China. In Q1 2019, Huawei's worldwide shipments rose nearly 50% year-over-year to 59.1 million, in comparison to Samsung and Apple, whose shipments declined 8% and 20%, respectively, in Q1 2019. Huawei's flagship models, like the P30 Pro and the Mate 20 Pro, are the most popular smartphones.
Reportedly, the loss of access to Google's Android operating system as well as other technical support and services is expected to dent Huawei's business in Europe, its second-biggest market, as Huawei licenses these services from Google in Europe (EFA). In India (INDA), Huawei, along with its sub-brand Honor, has just 4.5% market share. In China too, Huawei doesn't expect the impact to be significant, as already most of the Google mobile apps are banned in China and are provided by alternative apps offered by domestic players like Tencent and Baidu.
Meanwhile, it seems that Huawei was preparing well in advance of such a scenario and was reportedly building its own operating system for mobile phones and laptops. Huawei has also been stockpiling chips from US suppliers for the last three months, as the company had predicted the situation in advance and thus didn' want to rely on chip companies like Qualcomm and Intel. However, Huawei would still need apps like Google Play Store outside China as it is crucial for an overall Android experience. It might also need some products or parts from the US firms, even though it builds its own operating system.