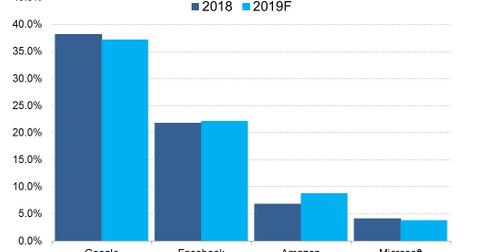 Is Google's Advertising Business in Trouble?
By Neha Gupta

Updated
Shift in digital advertising budget allocation
As the top digital advertising platform operator in the United States, Google (GOOGL) has always been the target of competition. Now the company is confronting another challenge: the disillusionment of some of its advertising clients.
Bloomberg reported last month that Procter & Gamble (PG), the world's top advertiser, was looking to reduce its marketing spending on digital platforms that couldn't guarantee it the brand safety that it wanted. PG was one of the major brands that boycotted advertising on Google's YouTube in 2017 and 2018 after it learned that its commercials were appearing alongside inappropriate content on the video sharing platform.
Article continues below advertisement
In what could put further pressure on Google's advertising business, Reuters reported recently that advertising agencies are saying that clients are keen to shift their digital marketing budgets from platforms on which product searches take place to platforms on which purchases take place. The pivot is to the advantage of online marketplace operators such as Amazon (AMZN).
Google's share of the digital advertising market to shrink
According to eMarketer estimates, Google's share of the digital advertising market in the United States will drop to 37.2% this year from 38.2% in 2018. In contrast, Amazon's share of the country's digital advertising market is expected to climb to 8.8% this year from 6.8% in 2018. Facebook (FB) and Microsoft (MSFT) are expected to capture 22.1% and 3.8% shares of the digital advertising market, respectively, in the United States in 2019.