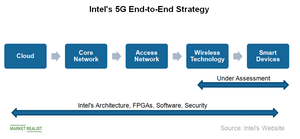 Intel Expands Its Total Addressable Market in AI and 5G
By Puja Tayal

May. 1 2019, Published 9:48 a.m. ET
Intel focuses on AI and 5G
Intel's (INTC) new CEO, Bob Swan, took on the role on a permanent basis on January 30. The company's first-quarter earnings call was his first as permanent CEO. On it, he talked about his strategy for leading the company to future growth.
Swan stated that he intends to leverage Intel's broad portfolio to tap key technologies such as AI and 5G. With these technologies, he stated that the company will focus on markets in which it can make a difference and in which it can generate higher returns.
Article continues below advertisement
AI focus
Within AI, Intel is focusing on the data center and automotive verticals, in which NVIDIA (NVDA) is the leader with its GPU (graphics processing unit) accelerated platform solutions.
Swan highlighted that Intel has launched the second generation of Xeon Scalable, the industry's first AI accelerated server central processing unit, which he claims beats GPUs on major AI workloads such as recommendation engines. He added that Intel is working with customers such as Siemens on an AI-based cardiac MRI model that will leverage Xeon Scalable's deep-learning Boost technology to provide real-time diagnoses.
In the automotive space, Intel's Mobileye technologies are gaining traction. Swan stated that Mobileye's eight new global advanced driver assistance system designs had been adopted in the first quarter. Its real-time crowdsourced mapping technology, Road Experience Management, was also adopted by a major North American automaker. Swan didn't reveal the names of the customers.
5G focus
In the 5G space, Intel is focusing on areas that generate high returns and in which its technology plays a key role in customers' success. The 5G edge and network infrastructure segment meets Intel's criteria.
Swan stated that Intel was developing the 5G-ready N3000 field-programmable gate array acceleration card and 10 nm Snow Ridge network system on chip for 5G base stations. He added that the company aims to gain a 40% market share in the base station segment by 2022. However, the company recently exited the 5G smartphone modem market, as it didn't fulfill the above two criteria.