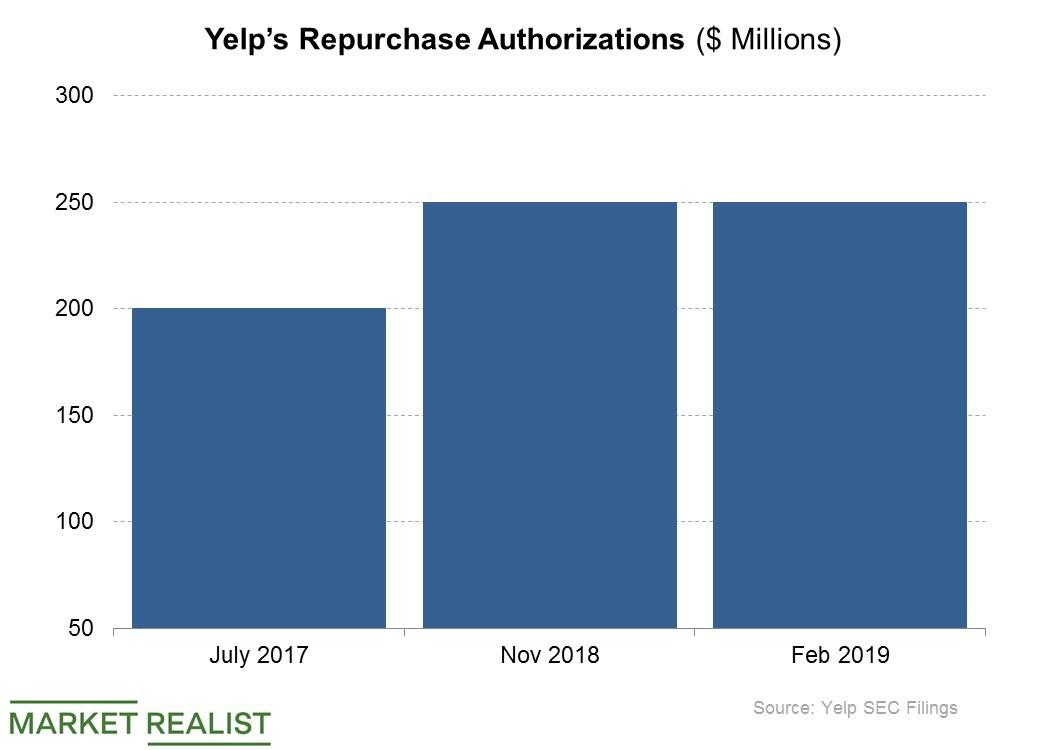 Inside Yelp's Share Repurchase Program
By Neha Gupta

May. 17 2019, Published 8:37 a.m. ET
Yelp on track to repurchase $250 million of shares by end of June
Yelp (YELP) early this month outlined five steps it plans to take toward creating long-term shareholder value. One of these steps involves putting money back in the pockets of Yelp shareholders through share repurchase programs.
Yelp initiated its share repurchase program in July 2017 with a commitment to return $200 million to shareholders through buying back shares. The company completed that initial program and launched a new one of $250 million in November last year. In February this year, Yelp further expanded its share repurchase program with the addition of another $250 million to the program.
After Yelp repurchased $102 million worth of shares in the first quarter, around $400 million remained under its existing repurchase authorization at the end of March. Including the first quarter repurchase, Yelp is aiming to have repurchased $250 million shares by the end of June.
Article continues below advertisement
Internet companies line up big repurchase programs
eBay (EBAY), Facebook (FB), and Alphabet (GOOGL) are the other Internet companies that have lined up substantial share repurchase programs for their shareholders. eBay repurchased $1.5 billion worth of its shares in the first quarter and had $5.7 billion remaining in its existing repurchase authorization. Facebook, which added $9.0 billion to its repurchase program in December last year, bought back $613 million worth of its shares in the first quarter. Alphabet, which boosted its repurchase program with an additional $12.5 billion at the beginning of this year, bought back $2.2 billion worth of its shares in the first quarter. Although Twitter (TWTR) currently does not repurchase shares, the company is now profitable, raising hopes it could return to putting money back in the pockets of its shareholders through programs such as share repurchases.