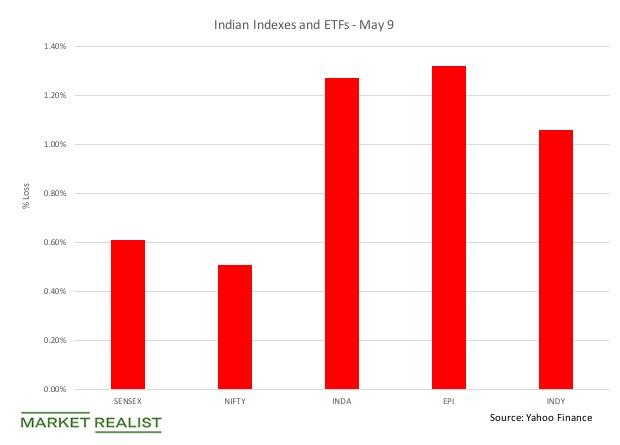 Indian Markets Seem Cautious ahead of Trade Talk Outcome
By Mike Sonnenberg

May. 10 2019, Published 9:47 a.m. ET
SENSEX and NIFTY
Indian markets remained cautious on May 10. The S&P BSE SENSEX dropped 0.26%, while the NSE NIFTY 50 dropped 0.2% to end the week deep in the red. The market remained mixed as ten companies in the BSE advanced while the other 20 retreated.
The IT sector was under pressure as the Indian rupee strengthened. India's VIX, which measures implied volatility in the Indian markets, was up 3.3%.
Article continues below advertisement
Your ETFs
The WisdomTree India Earnings Fund (EPI), which invests in companies in both the above indexes, dropped 1.32% on May 9 against the SENSEX's 0.61% loss. The iShares MSCI India ETF (INDA) fell 1.27% on May 9, underperforming the market. The iShares India 50 ETF (INDY) fell 1.06% against the NIFTY's 0.51% loss on the day.
Other markets and ETFs
Indonesia's Jakarta Composite Index gained marginally on May 10. The Indonesia-focused iShares MSCI Indonesia ETF (EIDO) fell 1.43% on May 9, underperforming the Jakarta Composite.
The Asia-focused iShares Asia 50 ETF (AIA) dropped over 2% yesterday. AIA invests in equities from various Asia-Pacific markets.
The Vanguard FTSE Pacific Index ETF (VPL) fell 88 basis points on May 9.
European markets were deep in the green today at 7:00 AM EDT. The German DAX was up 1.12% as German exports and trade balance surged. German exports rose 1.5% compared to the expectation of a 0.3% fall, and imports came in lower than expected. Thus, the trade balance crossed expectations, pushing the German market up.
France's CAC was up 0.75%, while the British FTSE 100 was up 0.75%.