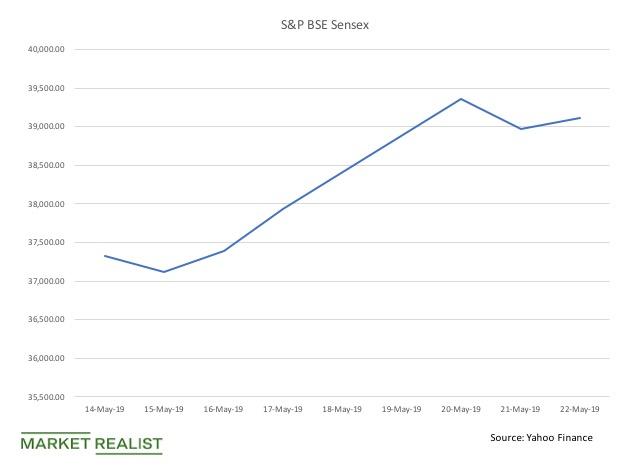 Indian Indexes Gain ahead of the Vote Count
By Mike Sonnenberg

May. 22 2019, Published 10:19 a.m. ET
Indian indexes gain
Ahead of the day of the vote count on May 23, both the main Indian indexes gained. The S&P BSE Sensex gained 0.36% to close at 39,110, while the NIFTY 50 rose 0.25% to end the day at 11,738.
The markets are expecting a second five-year term for Prime Minister Narendra Modi's coalition. If tomorrow's count goes as expected, the markets are expected to revive. If the ruling coalition fails to achieve a majority, we may see the markets retreating.
Article continues below advertisement
Other markets and ETFs
Taiwan's TSEC Weighted Index saw a marginal loss on May 22. On May 21, the iShares MSCI Taiwan ETF (EWT) gained 1.28%, as we had expected.
The Asia-focused iShares MSCI Asia 50 ETF (AIA) gained 1.18% yesterday.
Indonesia's Jakarta Composite Index lost 0.2% on the day compared to its gain of 0.75% on May 21. The iShares MSCI Indonesia ETF (EIDO) gained 2.16% on May 21.
Thailand's SET Composite Index gained 1.02% on May 22. Thai economic data showed a higher-than-expected fall in exports and a lower-than-expected drop in imports.
European markets were largely up today, with Germany's DAX gaining 0.31%, France's CAC up by 0.12%, and the United Kingdom's FTSE 100 up 0.36%.