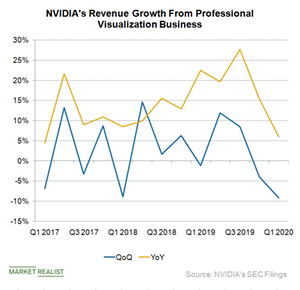 How NVIDIA Is Set to Benefit from RTX-Powered Laptops
By Puja Tayal

May. 29 2019, Published 3:09 p.m. ET
NVIDIA's Professional Visualization business
NVIDIA (NVDA) is known for its graphics technology, and its graphics cards are used by gamers, designers, and developers. The growing adoption of AR and VR[1.augmented and virtual reality] is driving the need for richer graphics.
NVIDIA has introduced real-time ray tracing technology through its Turing GPUs,[2.graphics processing units] opening new opportunities for the visual effects industry. NVIDIA supplies Quadro professional workstation GPUs to developers and designers and reports the revenue under its Professional Visualization segment. Emerging applications such as AR and VR account for 38% of the segment's revenue.
Article continues below advertisement
Professional Visualization earnings
The second and fourth quarters of a fiscal year are seasonally strong for NVIDIA's Professional Visualization segment. However, the segment's revenue fell 3.9% sequentially in the fourth quarter of fiscal 2019 as it reported strong growth of 8.5% in the previous quarter. In the first quarter of fiscal 2020, the segment's revenue fell 9% sequentially to $266 million due to seasonal weakness, but rose 6% year-over-year thanks to strong public sector, oil and gas, and manufacturing demand.
NVIDIA is seeing growing adoption of real-time ray tracing, with top 3D application providers such as Adobe and Autodesk using NVIDIA RTX GPUs in their product releases and top studios using NVIDIA RTX ray tracing to create movies.
NVIDIA's Studio laptops
NVIDIA is bringing real-time ray tracing GPUs to professional laptops. At Computex 2019, it announced a new line of 17 laptops powered by Quadro RTX 5000, 4000, or 3000 GPUs, and GeForce RTX 2080, 2070, and 2060 GPUs. These laptops are set to feature Studio, a new software suite with CUDA-X AI to accelerate graphics rendering and automate tasks such as color matching and tagging photos. The laptops, scheduled to hit the market in June at a starting price of $1,599, could drive NVIDIA's Professional Visualization revenue in the second quarter of fiscal 2020.