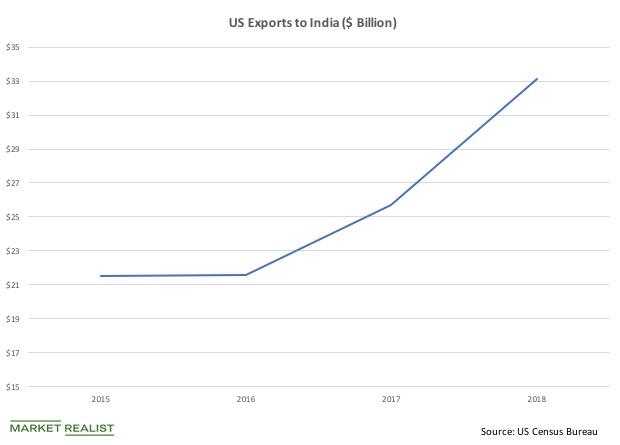 How Modi's Victory May Affect Walmart, Amazon, and Trade
By Mike Sonnenberg

May. 29 2019, Published 3:26 p.m. ET
US-India trade
Between 2015 and 2018, when Modi first came to power, US-India trade increased by 30% to $142.1 billion. India is the US's ninth-largest trading partner. The US exported $58.9 billion worth of goods and services to India in 2018. The main exports were precious metals and stones ($7.9 billion), fuels ($6.2 billion), aircraft ($3 billion), machinery ($2.2 billion), and medical instruments ($1.6 billion).
India exported $83.2 billion worth of goods and services to the US in 2018. The major imports from India were pharmaceuticals ($6 billion), machinery ($3.3 billion), and vehicles (worth $2.8 billion). On the services front, India largely exports telecommunication and IT services to the US.
Article continues below advertisement
The issues
As the US runs a trade deficit with India, India is under Trump's trade war radar. Trump has already changed the visa rules, which has hurt the Indian technology sector and technology companies like Infosys (INFY) and Wipro (WIT). On the other hand, India's guidance to companies to save data locally and regulating e-commerce has impacted Amazon (AMZN) and its nemesis, Walmart-owned (WMT) Flipkart. Amazon and Flipkart are in a fierce battle to capture a larger share of the e-commerce market in India. Both Amazon and Walmart have invested heavily in India. Walmart acquired Flipkart in May 2018 for $17 billion. Amazon has committed $5.5 billion to Indian operations so far.
Although there are issues, trade is expected to continue to grow as India's economy expands and formalizes further during Modi's second term.