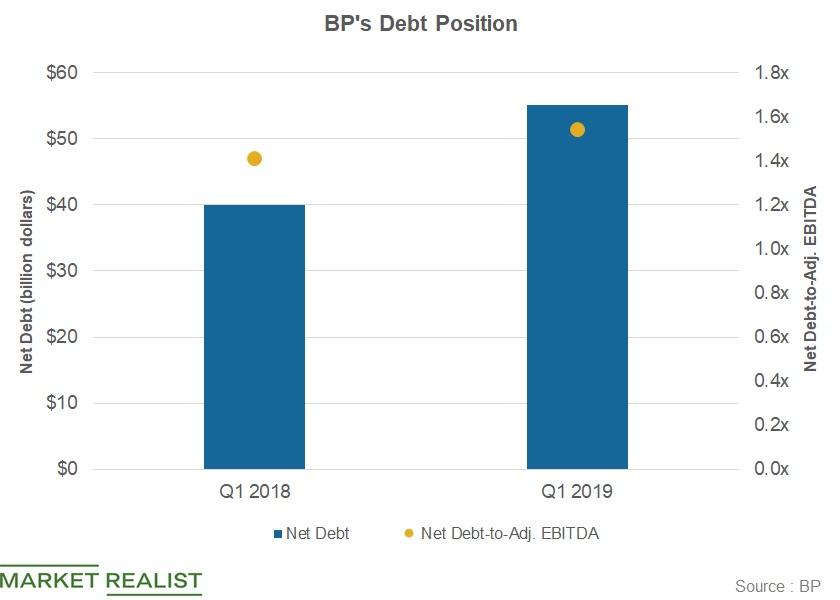 How Has BP's Debt Position Changed in the First Quarter?
By Maitali Ramkumar

May. 8 2019, Published 4:16 p.m. ET
BP's debt position compared to peers
BP's (BP) financials have been impacted by the new IFRS (international financial reporting standards) on leases, which came into effect January 1, 2019. The new standard has resulted in the inclusion of right-of-use assets and lease liabilities on the balance sheet. As a result, BP's total debt, which now includes finance debt and lease liabilities, has risen in Q1 2019. Also, previous figures have been re-instated for comparison purposes.
Article continues below advertisement
BP's total debt-to-capital ratio stood at 43% in the first quarter, higher than the industry average of 34%. The industry average takes into account 13 integrated energy companies worldwide. Relatively, Royal Dutch Shell (RDS.A) and Total's (TOT) ratios stood at 32% and 33%, respectively. These companies have also seen the impact of accounting changes on their financials.
BP's net debt-to-adjusted EBITDA trend
BP's net debt-to-adjusted EBITDA ratio rose from 1.4x in Q1 2018 to 1.5x in Q1 2019. BP's net debt increased by 38% YoY to $55.0 billion in the first quarter, which was due to the rise in total debt (by 23%) coupled with the fall in cash and equivalents (by 4%). However, from Q1 2018 to Q1 2019, BP's adjusted trailing 12-month EBITDA rose.
Thus, the net debt-to-adjusted EBITDA ratio rose due to an increase in net debt partially offset by the rise in EBITDA. BP's ratio of 1.5x stood above the peer average of 1.2x in the first quarter.
So what does the debt analysis reveal?
BP's net debt-to-adjusted EBITDA and total debt-to-capital ratios stood above average, which is not a comfortable situation. The higher ratios show that the company has higher debt in its capital structure compared to peers, which means peers are in a better position to handle harsh business conditions. Thus, BP will have to reduce its debt level, a critical factor that investors will monitor closely.