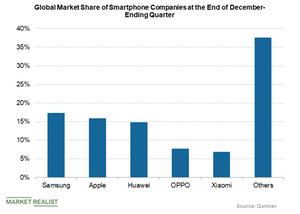 How Google's Suspension of Business Could Affect Huawei
By Sophia Nicholson

May. 20 2019, Published 3:26 p.m. ET
Huawei under pressure
China's Huawei Technologies is expected to be negatively impacted by Google's (GOOGL) decision to comply with the US government's order to not license its Android mobile operating system to the company amid fears of political risk related to the US-China trade spat.
Since Google will now not be able to license its Android operating system and other services like Maps, Google Play, Gmail, YouTube, and others to the Chinese firm, Huawei will have to use an open source version of Google's operating system. Further, the upcoming Huawei phones will not have Android OS on its devices. Nevertheless, Google is assuring current users of Huawei smartphones that Google services will still work on their Huawei devices.
Article continues below advertisement
Huawei's shipments to take a huge hit
Huawei relies heavily on Google's Android operating system for its smartphones, which are mainly sold outside China. Therefore, the suspension of any business activity between Huawei and Google could significantly hit its smartphone market share globally. Currently, Huawei is the second largest global smartphone brand by market share, following South Korea's Samsung Electronics. According to Counterpoint's latest report, Huawei's global market share increased to 17% in Q1 2019 from 11% in the year-ago quarter. However, Samsung's global smartphone shipment market share fell to 21% in Q1 2019 from 22% in Q1 2018.
Huawei is also dependent on critical components from over 30 US suppliers, including Qualcomm and Intel, for its smartphones and other networking equipment. Reportedly, chip stocks Qualcomm and Intel have stopped business with the Chinese firm until further notice.