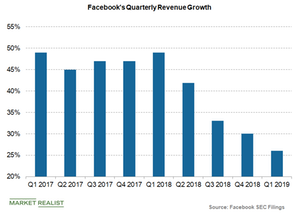 How Facebook Is Tightening Rules for Its Live Feature
By Sophia Nicholson

May. 16 2019, Published 3:12 p.m. ET
Facebook's "one-strike" policy
Facebook (FB) recently announced that it's introducing a "one-strike" policy for its Facebook Live feature, which would temporarily restrict access of those users who break the company's rules anywhere on its site. The rules also include restrictions related to creating ads on Facebook. However, the company did not specify the offenses that are included for the one-strike policy and the period of the suspensions.
Article continues below advertisement
Facebook to prevent violence on its live streaming feature
The new rule is centered around its live streaming feature to curb online violence as an outcome of the New Zealand massacre, which happened on March 15 when a gunman went live on Facebook and killed 51 people. The rule came after the world leaders, including the New Zealand Prime Minister and French President pledged to eliminate online violence and extremist content.
Facebook stated that it had removed 1.5 million videos globally in the first 24 hours of the attack, but later it also identified more than 900 different versions of the video. Besides online violence, Facebook is also struggling with privacy scandals and other issues related to the spreading of fake news and misinformation on its platform, which has depleted Facebook's revenue growth in the past four consecutive quarters.
Facebook's revenue growth rate has declined from 49% in the first quarter of 2018 to 26% in Q1 2019. According to the company, the revenue growth rate will continue to fall in the second half of 2019.