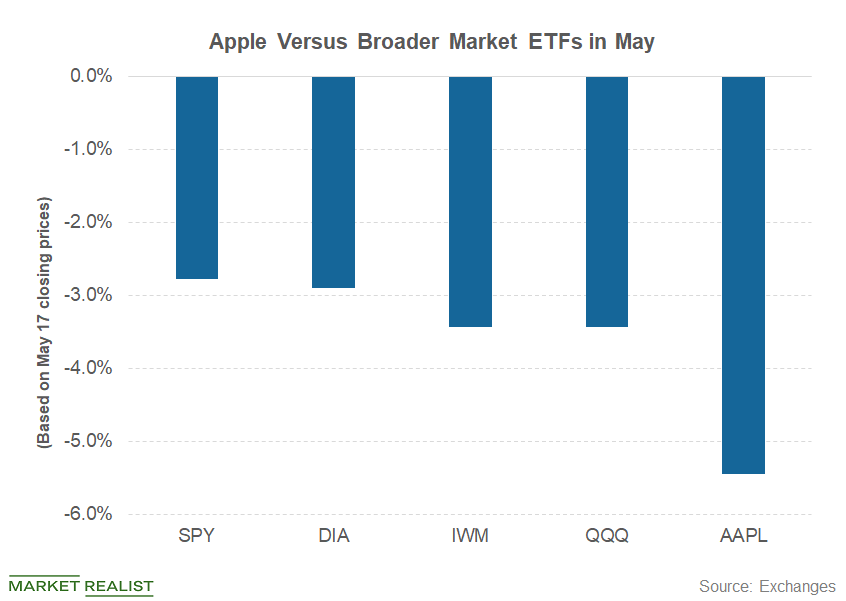 Have US-China Trade Talks Broken Down?
By Mohit Oberoi, CFA

May. 20 2019, Published 1:33 p.m. ET
US-China trade war
The US-China trade war has intensified this month after President Donald Trump increased the tariffs on $200 billion worth of Chinese goods from 10% to 25%. After a brief pause, China retaliated by increasing tariffs on $60 billion worth of US goods.
The Trump administration has now targeted Huawei. The company has always been a flashpoint in terms of US-China relations. The United States has warned its allies against using Huawei's equipment. Huawei's CFO was also arrested in Canada for allegedly evading US sanctions on Iran.
Article continues below advertisement
Huawei
US suppliers of Huawei, including Qualcomm (QCOM) and Intel (INTC), saw a selling spree after the Trump administration announced the action against Huawei. Overall, May hasn't been a happy month for the bulls, and the SPDR S&P 500 ETF (SPY) is down 2.8% in the month. Apple (AAPL) has seen downward price action of 5.5% in May so far.
While President Trump and Chinese President Xi Jinping are expected to meet next month on the sidelines of the G20 summit, for now, there seems to have been a breakdown in US-China trade talks after each side increased tariffs on the other's goods. CNBC reported, "Negotiations between the U.S. and China appear to have stalled as both sides dig in after disagreements earlier this month." Citing sources, it also reported that next round of US-China talks was "in flux," as "it is unclear what the two sides would negotiate."
Meanwhile, the markets will be keeping an eye on President Trump's tweets. The president has used Twitter as a platform to attack China. Before China increased tariffs on US goods, Trump warned China in a tweet not to retaliate against the US tariff hike.