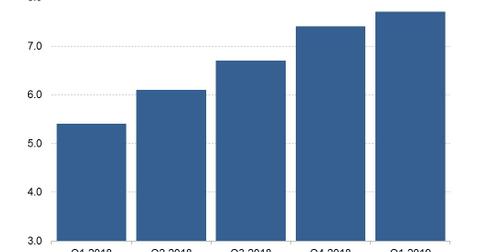 Good News for Amazon in Apple's Service Business
By Neha Gupta

Updated
Apple commits to spending $1.5 billion on Amazon's cloud
Apple is one of Amazon's (AMZN) largest cloud customers. And with Apple pivoting to selling more cloud-based services in response to its core iPhone business slowing down, there could be more rewards down the road for Amazon.
According to CNBC, Apple's spending on Amazon's cloud is on the rise. The company spent $350 million to use Amazon's cloud in 2018, and the spending is on track to hit $360 million this year. CNBC reports that Apple recently committed to spend at least $1.5 billion on Amazon's cloud over five years, making it one of Amazon's largest cloud customers. Snap (SNAP) also has a huge spending commitment with Amazon for cloud services, planning to spend $1.1 billion on Amazon's cloud by 2022.
Article continues below advertisement
Amazon's cloud revenue rose 41%
In the first quarter, Amazon's cloud revenue rose 41% year-over-year to $7.7 billion. Although the company's cloud business only contributed 13% of Amazon's total revenue in the first quarter, it was responsible for 50% of its operating profit in that period.
Amazon, the world's top cloud company, held ~35% of the global market at the end of the first quarter, according to Synergy Research. Meanwhile, Microsoft (MSFT), Google (GOOGL), IBM (IBM), and Alibaba (BABA) held 15%, 7.0%, 6.0%, and 5.0%, respectively.