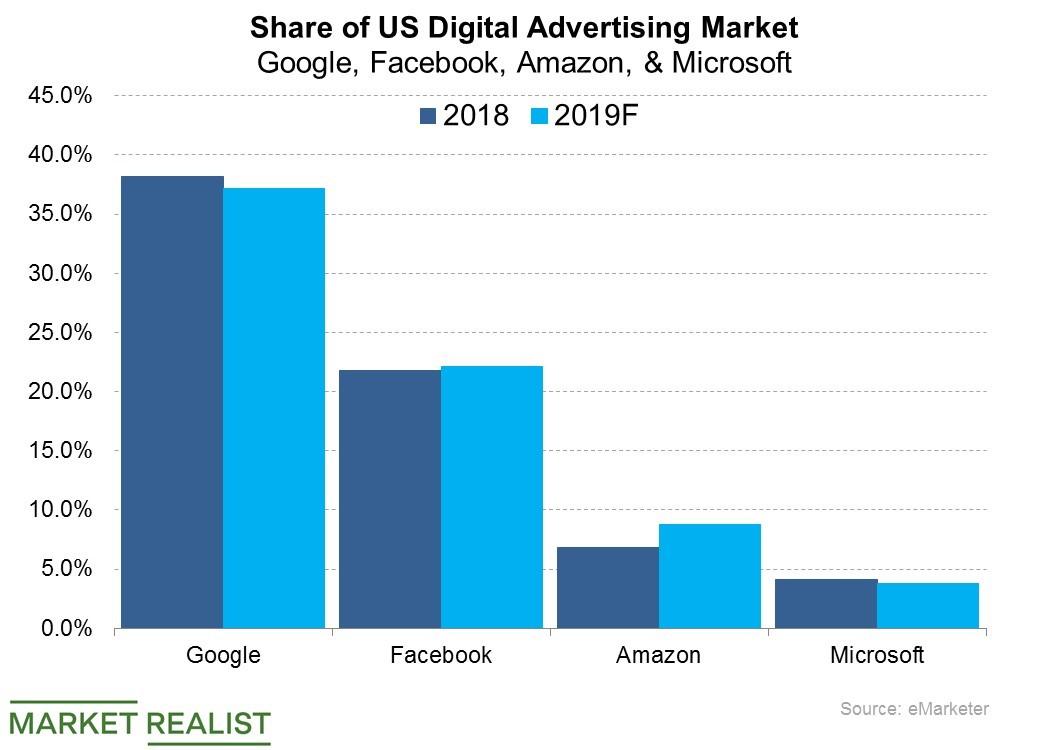 Examining Google's New Strategy to Slow Amazon's Onslaught
By Neha Gupta

May. 30 2019, Published 12:41 p.m. ET
Ordering restaurant food from Google Search and Maps
Alphabet's (GOOGL) Google recently added a functionality that allows users of its Search and Map services to order restaurant food from those interfaces without the need to download a separate food ordering and delivery app, as is often required. According to a report from the Verge, Google has partnered with several food delivery services, including Postmates and DoorDash, for its restaurant food-ordering service.
Article continues below advertisement
Google's new food-ordering service has the potential to help it pull more traffic to its platforms, thereby increasing exposure for its advertisers. The move could, in turn, make Google advertising more attractive for consumer-focused businesses, potentially allowing the company to slow Amazon's (AMZN) raid on its base.
Amazon is cutting into Google's ad market share
As online shoppers choose to do most of their product searches on marketplaces, operators of general-purpose search engines, such as Google, are facing immense competitive pressure from marketplace operators such as Amazon for advertising spending by consumer brands. Amazon's share of US digital advertising dollars is expected to jump to 8.8% from 6.8% in 2018, according to data from eMarketer. In contrast, Google's share of the market is projected to shrink to 37.2% from 38.2% in 2018, and Microsoft's (MSFT) share of the market is projected to drop to 3.8% from 4.1% in 2018.
Facebook's (FB) share of the digital advertising market in the United States is expected to rise to 22.1% this year from 21.8% in 2018. Facebook and Snap (SNAP) have added online shopping features to their platforms in apparent attempts to appeal to consumer brand advertisers.