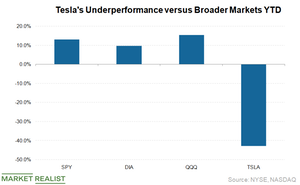 Einhorn's Tesla Short Is Working in His Favor
By Anuradha Garg

May. 27 2019, Published 1:29 p.m. ET
Short positions
In its Q1 investor letter, Greenlight Capital (GLRE) stated that partnerships had an average exposure of 112% long and 70% short. Its major short positions include Tesla (TSLA), Netflix (NFLX), and Assured Guaranty (AGO). During the stock market sell-off in the fourth quarter of 2018, the fund reduced its short exposure to a lot of volatile names. Greenlight lost 34% last year as its "bubble basket" of tech stocks (QQQ) continued rising.
Article continues below advertisement
Losses on Assured Guaranty and Netflix
The fund lost on its bet against Assured Guaranty (AGO) this year as well, with the stock gaining 9.7% as of May 24. As of the end of the first quarter, the fund had also lost on its "bubble basket" short and Netflix (NFLX) put options. Netflix stock has risen 32.4% this year. Previously, David Einhorn criticized Netflix for not being able to convert subscribers to cash.
Tesla going GLRE's way
The only major short that has been going GLRE's way this year is Tesla (TSLA). Tesls stock had fallen 42.7% this year as of May 24. Einhorn has weighed in on Tesla time and again, and during the Sohn Investment Conference 2019, Einhorn bashed Tesla. As reported by CNBC, Einhorn quoted Napoleon as saying "never interrupt your enemy when he's making a mistake," adding, "So, I won't. Just watch the screen." He proceeded to present some of Elon Musk's recent promises.
During his Q1 investor letter, Einhorn elaborated on its short Tesla bet, saying that in addition to facing vehicle safety concerns, Tesla is in a difficult position as far as its operating performance is concerned. He stated that if Q1 is any indication, the total annual demand for Tesla's Model 3 is about 200,000 vehicles, compared with Musk's estimate of 500,000–700,000 units.