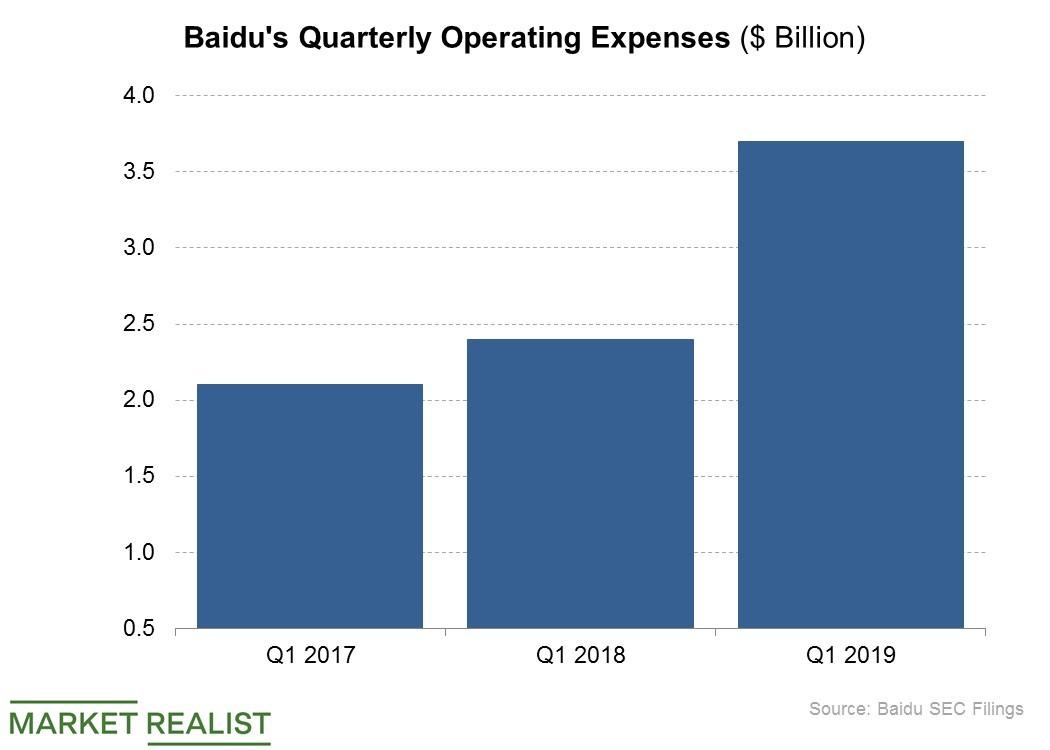 Can Baidu Recover from Its Historic Loss?
By Neha Gupta

May. 24 2019, Published 10:06 a.m. ET
Alibaba and Tencent fared better than Baidu
Baidu (BIDU) plunged into a historic and surprise loss in the first quarter, bucking the performances of many of its Internet peers in its home country, China. The company posted a $49 million loss, representing a sharp reversal of fortune, as it had posted a profit of $1.1 billion in the same quarter last year. The loss was also wider than the $27 million loss analysts had expected. The first quarter of 2019 saw Baidu record its first-ever quarterly loss since going public 14 years ago.
On their part, Tencent (TCEHY), Alibaba (BABA), and JD.com (JD) posted first-quarter profits of $4.0 billion, $3.8 billion, and $1.1 billion, respectively. Google parent Alphabet (GOOGL) and Yandex (YNDX) reported first-quarter profits of $8.3 billion and $48.3 million, respectively.
Article continues below advertisement
Baidu hit by soaring costs
For Baidu, it looks like the first-quarter loss was inevitable given that its costs rose much faster than its revenue in the quarter. Baidu's operating costs increased more than 60% YoY (year-over-year) to $3.7 billion, far outpacing its 15% YoY revenue growth in the quarter.
With Baidu's first quarter and its surprise now in the rearview, the question is what the future holds for the company. Can it recover from its shock loss? Baidu's historic loss was largely blamed on China's economic slowdown, which affected spending on advertising, Baidu's principal source of revenue. A sharp uptick in the company's marketing spending, particularly a TV commercial around the time of the Chinese New Year, also hurt its bottom line.
Repairing Baidu's bottom line
In an investor briefing this month, Baidu's leadership outlined a number of actions it planned to take to try to turn the company's fortunes around. One such action is improving monetization, which may mean trying to extract more revenue from the company's nonadvertising operations, such as its smart speaker and technology licensing businesses.