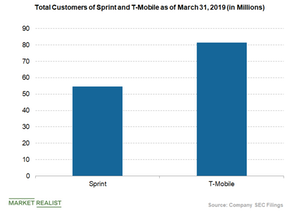 Boost Mobile Sale: Important for the Sprint-T-Mobile Merger?
By Sophia Nicholson

May. 30 2019, Published 11:25 a.m. ET
Selling Sprint's Boost Mobile brand
Sprint (S), the fourth-largest US wireless carrier, has decided to sell Boost Mobile—its prepaid wireless brand. Sprint needed to get approval from the FCC (Federal Communications Commission) for its $26 billion planned merger with T-Mobile (TMUS). Sprint and T-Mobile have promised to deploy 5G to maximum areas and keep the prices low for three years after the merger deal is closed.
However, the Department of Justice hasn't approved the deal. There are concerns that the merger of the third and the fourth-largest US carriers would hurt the wireless market's competition. The number of US wireless carriers would be reduced from four to three—the newly merged company, Verizon, and AT&T.
Article continues below advertisement
Prepaid business
Selling Boost Mobile would reduce the combined company's market share in the prepaid wireless market. Sprint and T-Mobile have a vast number of prepaid subsidiaries. Most of Sprint's customers use the Boost Mobile prepaid brand, which offers unlimited data, talk time, and text messages for $100 per month. The FCC is concerned that keeping all of the prepaid brands would create a monopoly and hurt the competition. Currently, T-Mobile has ~80 million customers, while Sprint has ~55 million customers.
Even after selling the Boost Mobile brand, the FCC would rely on the combined company to provide a spectrum and network for at least six years.
According to a Reuters report, Peter Adderton, Boost Mobile's founder, has requested that federal regulators urge T-Mobile and Sprint to divest their wireless spectrum to maintain competition for the Boost Mobile brand in the market. Adderton also wants the regulators to ensure that "New T-Mobile" doesn't employ anticompetitive practices to harm Boost Mobile. The contract between the companies should allow Boost Mobile to buy network access from other carriers.