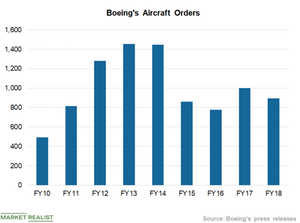 Boeing to Feel the Pinch of Escalating US-China Trade Tensions
Escalating trade tensions
Trade tensions between the United States and China have escalated once again after the world's two largest economies raised tariffs on billions of dollars' worth of each other's imported goods.
It all started after the United States increased duties on $200 billion worth of Chinese goods to 25% from 10% on May 10, blaming China for moving too slowly on trade talks.
US President Donald Trump said on Twitter (TWTR), "The Trade Deal with China continues, but too slowly, as they attempt to renegotiate. No!" He also threatened to levy duties on another $325 billion worth of untaxed Chinese goods.
Article continues below advertisement
In retaliation, on May 13, China announced that it would raise duties on US imported goods worth $60 billion starting on June 1. Geng Shuang, a spokesperson for the Chinese Ministry of Foreign Affairs, said on Monday morning that China would "never yield to external pressure," CNN Business reported.
According to media reports, the latest announcement from Chinese officials may also affect Boeing's (BA) orders. Chinese newspaper Global Times's editor in chief, Hu Xijin, tweeted, "China may stop purchasing US agricultural products and energy, reduce Boeing orders and restrict US service trade with China. Many Chinese scholars are discussing the possibility of dumping US Treasuries and how to do it specifically."
According to media sources, Boeing could have received 100 jet orders worth $10 billion as part of the trade negotiations between the United States and China.
Broader market tumbled
The broader market fell on May 13 after the Chinese government's announcement that it would impose tariffs on US products. The NASDAQ, the S&P 500, and the Dow Jones Industrial Average fell 3.4%, 2.4%, and 2.4%, respectively.
Technology and industrial stocks with greater exposure to the Chinese market hurt the most, with Apple (AAPL), Cisco (CSCO), Boeing, and Caterpillar (CAT) plunging 5.8%, 3.9%, 4.9%, and 4.6%, respectively. The Industrial Select Sector SPDR ETF (XLI) and the Technology Select Sector SPDR ETF (XLK) fell 2.9% and 3.8%, respectively.