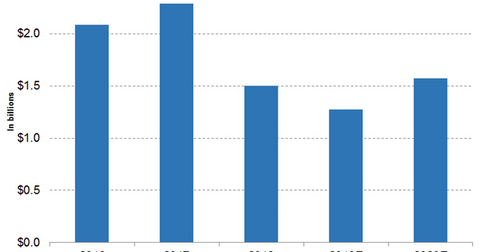 Bausch Health Companies' Cash Flow Guidance in Fiscal 2019
By Margaret Patrick

Updated
Cash flow guidance
In the first-quarter earnings investor presentation, Bausch Health Companies (BHC) has guided for CFO (cash flow from operations) of $1.5 billion–$1.6 billion for fiscal 2019. The company plans to use more than $1.0 billion of the cash to reduce debt or finance bolt-on acquisitions in fiscal 2019.
Article continues below advertisement
Analysts' projections
Analysts expect Bausch Health Companies' CFO to change YoY by -15.20% to $1.27 billion in fiscal 2019, 23.60% to $1.57 billion in fiscal 2020, and 25.99% to $1.98 billion in fiscal 2021.
Analysts also expect Bausch Health Companies' CFO to change YoY by 51.35% to $336.00 million in the second quarter, -19.16% to $422.00 million in the third quarter, and 35.74% to $433.00 million in the fourth quarter of fiscal 2019.
First-quarter performance
In the first quarter, Bausch Health Companies generated a CFO of $413 million. According to the first-quarter earnings conference call, the amount was impacted slightly by increased investments in inventories of active pharmaceutical ingredients and finished goods. The investments were required to support new product launches.
Bausch Health Companies has guided for fiscal 2019 interest expense of $1.60 billion. The company expects the interest expense to have a higher impact on its CFO in the second and fourth quarters since one-third of the total is paid in each of these quarters. The company only pays one-sixth of the total interest expense in the first and third quarters.
At the end of the first quarter, Bausch Health Companies had cash, cash equivalents, and restricted cash worth $784 million on its balance sheet. The company used $158 million of its cash to reduce its debt and $190 million of cash to fund the acquisition of Synergy Pharmaceuticals in the first quarter.