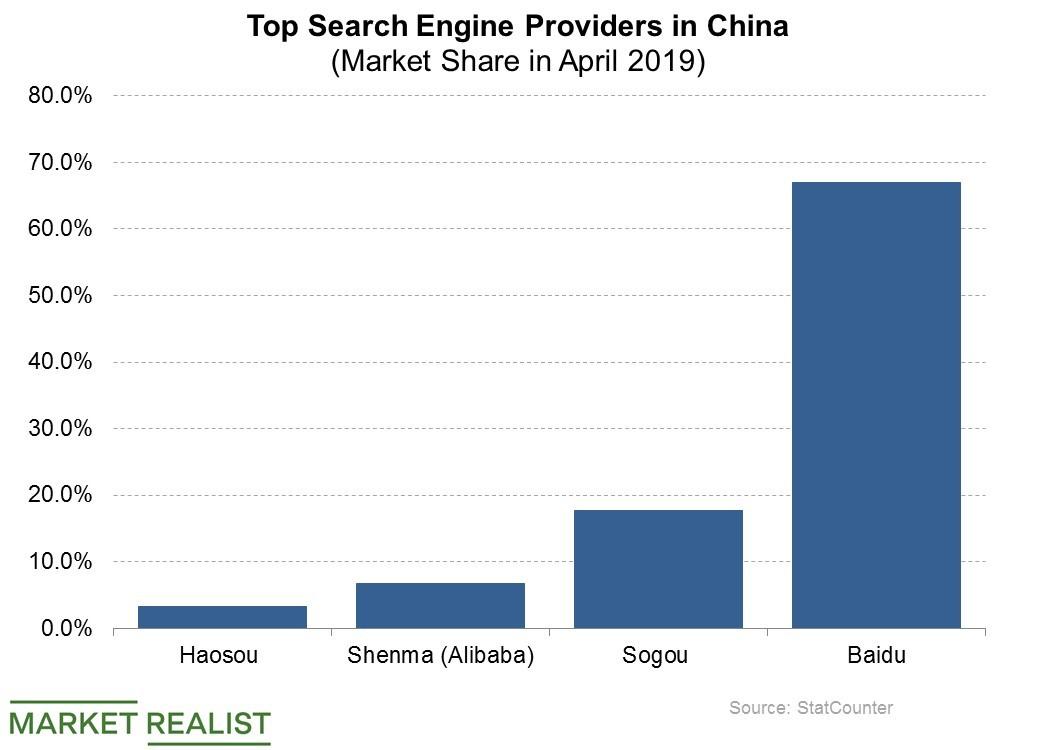 Baidu Replaces the Head of Its Search Business
By Neha Gupta

May. 24 2019, Published 10:06 a.m. ET
Former Microsoft talent to lead Baidu's mobile business
Baidu (BIDU) has replaced the head of its search business in what can be viewed as part of its efforts to stimulate growth in its most important operations. Hailong Xian, who led the search business and worked with Baidu for 14 years, has stepped down, according to a company announcement.
Baidu replaced Xian with Dou Shen, who joined the company in 2012 and has served in various management roles, including in display advertising and financial services. Shen will lead an expanded department as head of Baidu's mobile business, which now includes the search business. Shen worked in Microsoft's (MSFT) advertising division before joining Baidu.
Article continues below advertisement
Baidu maintains a tight grip on China's online search market
The move by Baidu to bring its search and mobile businesses under one roof and give the division a new leader comes as the company seeks to keep its tight hold on China's search engine market and create new revenue sources in the mobile market. Baidu held a 67% share of the search engine market in China in April, according to StatCounter data. Sogou followed at a distant second with a 17.7% market share, and Alibaba's (BABA) Shenma came in third with a 6.8% market share.
Baidu's mobile business does everything from providing search functions on mobile devices to providing AI technologies that power intelligent mobile devices such as smart speakers. Baidu's DuerOS software, a voice agent akin to Amazon's (AMZN) Alexa or Yandex's (YNDX) Alice, has been installed in some 275 million devices, including smart speakers and smartphones.