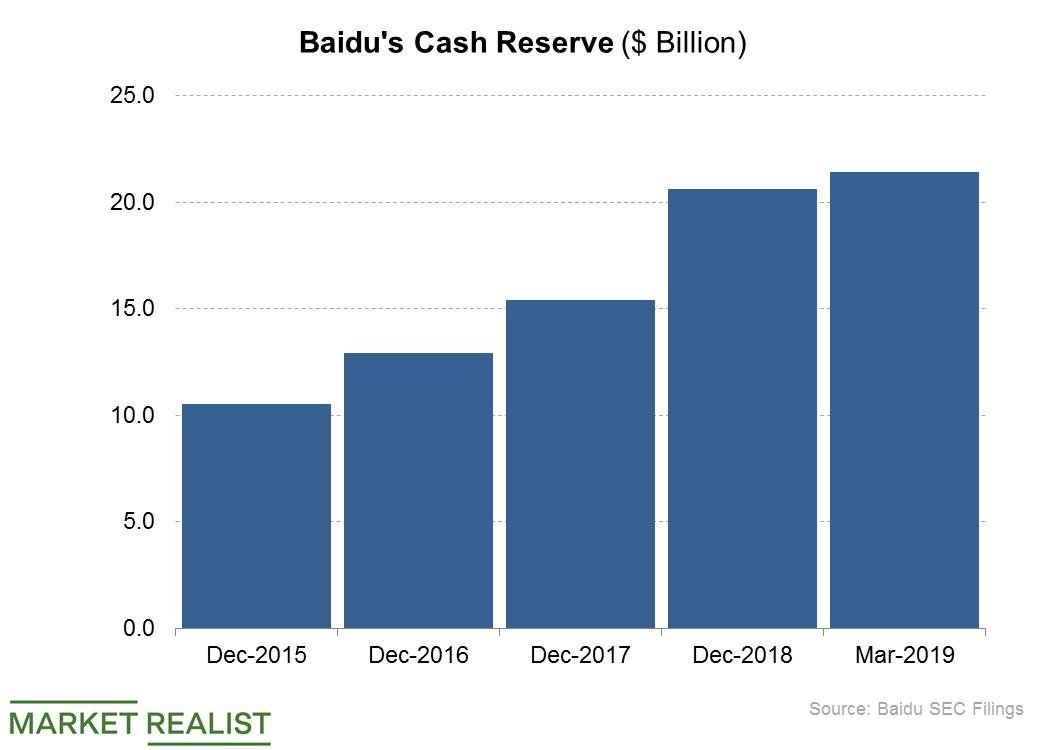 Baidu Is Seeking $1.0 Billion in Funding for a Bank Venture
By Neha Gupta

May. 24 2019, Published 10:06 a.m. ET
Baidu owns 30% of this banking venture
Baidu (BIDU) and China CITIC Bank are seeking up to $1.0 billion in new funding for their digital bank joint venture, according to a report by Bloomberg. The joint venture, known as AiBank, was set up in 2015 and provides an array of technology-based financial services, such as loans, deposit services, and electronic payment solutions. AiBank is owned 70% by CITIC Bank and 30% by Baidu.
The move by Baidu and CITIC to seek additional financing for their financial technology venture comes as Alibaba (BABA) and Tencent (TCEHY) are set to expand their digital banking operations in the Asian region. This month, Alibaba and Tencent secured licenses allowing them to set up and run so-called virtual banks, or banks without physical branches, in Hong Kong.
Article continues below advertisement
The pursuit of financial technology dollars
Deepening Internet and smartphone penetration is fueling the uptake of digital financial services, and a growing number of technology and financial services companies are investing in this area. The global financial technology market is expanding at a healthy rate of more than 22% per year and should be worth $305.7 billion in revenue by 2023, according to Research and Markets projections. Baidu's revenue increased 15% year-over-year to $3.6 billion in the first quarter.
Asia, with its massive population that's increasingly coming online, is expected to record the fastest expansion in the financial technology market in the next five years. Amazon (AMZN) and PayPal (PYPL) are some of the foreign companies battling the likes of Baidu and Alibaba in their backyard for financial technology revenue. Amazon recently began extending small business loans to online merchants in China, and PayPal is building a presence in India, one of the world's fastest-growing digital markets.