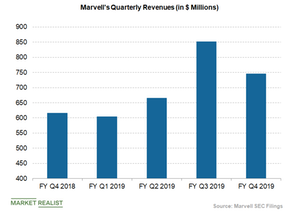 Avera Purchase Deal Should Boost Marvell's Top Line and Earnings
By Sophia Nicholson

May. 22 2019, Published 1:20 p.m. ET
Avera acquisition
Marvell Technology Group (MRVL) stock rose more than 3% on May 22 to $22.40. Late on May 21, the company signed a deal to buy Avera Semiconductor. The stock has gained 38.8% year-to-date.
Marvell would initially pay $650 million in cash at the closing. The company would pay an additional $90 million within 15 months after Avera meets specific business goals.
Article continues below advertisement
Avera deal to boost Marvell's revenues 
Marvell will likely complete the Avera deal in the current fiscal year ending in January 2020 after getting approval from US regulators. The deal would contribute ~$300 million to Marvell's revenues in fiscal 2020. Notably, Marvell's revenues have increased 21% year-over-year to $745 million in the fourth quarter of fiscal 2019. However, the company's revenues have declined 12.5% from the previous quarter. 
Previously, Avera was part of IBM's microelectronics business. Avera was sold to Globalfoundries in 2015. Avera makes high-cost ASIC (application-specific integrated circuits) chips that are in high demand due to the evolving computing and networking industry. Marvell adding Avera would make it a leading ASIC supplier for the wired and wireless communications infrastructure needed for 5G wireless base stations and cloud-data centers.
Marvell's acquisition spree
Marvell appears to be on an acquisition spree despite escalating fears about the US-China trade war. The Avera purchase deal followed the Aquantia (AQ) acquisition for ~$452 million announced in early May. The acquisition would help the company boost its networking business. In July of 2018, Marvell purchased Cavium for over $6.1 billion. Marvell gained processing capabilities along with some other assets to boost its network, video, security, storage connectivity, server, and other applications.