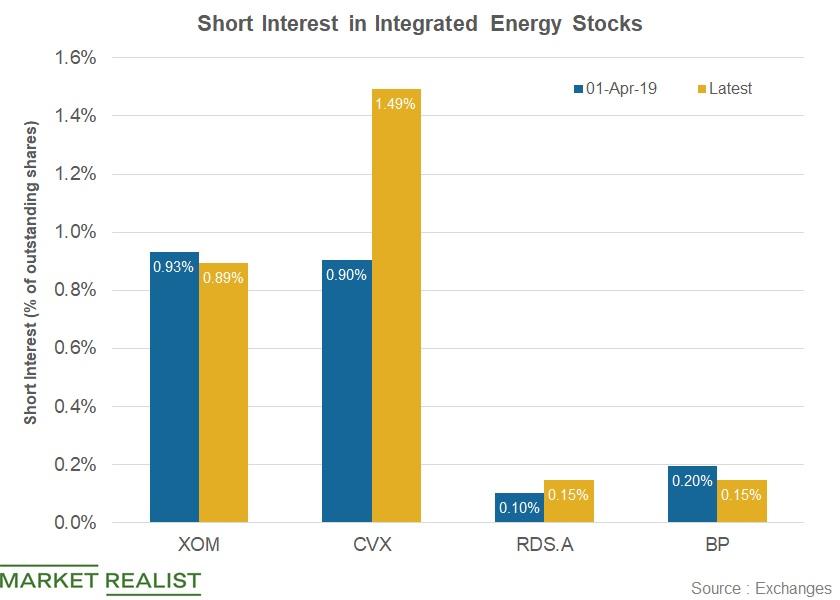 Analyzing Short Interest in XOM, CVX, RDS.A, and BP in Q2
By Maitali Ramkumar

May. 14 2019, Published 11:15 a.m. ET
Short interest in integrated energy stocks
Short interest in ExxonMobil (XOM), Chevron (CVX), Royal Dutch Shell (RDS.A), and BP (BP) have seen mixed trends since April 1, the beginning of the current quarter.
Sign up for Bagels & Stox, our witty take on the top market and investment news, straight to your inbox! Whether you're a serious investor or just want to be informed, Bagels & Stox will be your favorite email.
Short interest in Chevron has risen by 0.59 percentage points over April 1 to 1.49%. Usually, a rise in short interest means a surge in the bearish sentiment for the stock. In the same period, the short interest in Shell has risen by 0.05 percentage points to 0.15%. However, since April 1, short interest in ExxonMobil has fallen by 0.04 percentage points to the latest level of 0.89%. Short interest in BP has fallen by 0.05 percentage points over April 1 to 0.15%.
Since April 1, the stock price of Shell has increased by 1.5%. In the same period, ExxonMobil, BP, and Chevron have fallen by 5.2%, 5.1%, and 1.0%, respectively.
Article continues below advertisement
What affected the sentiments towards integrated stocks?
Chevron had agreed to acquire Anadarko Petroleum (APC) in a cash and equity deal on April 12. Chevron stock reacted negatively to the acquisition news.
However, Occidental Petroleum (OXY) placed a revised bid for Anadarko, and Anadarko considered OXY's offer to be better. Chevron decided not to make a counter offer and received $1 billion as termination fees. Chevron stock reacted positively to this news. Thus, short interest in Chevron could decline soon.
WTI prices, which significantly impact integrated energy companies' upstream revenues, rose by 6.3% in April. However, oil prices have declined by 3.5% so far in May. It's no surprise that given the volatile oil prices in the current quarter, the stocks show a mixed trend in the changes in short interest.