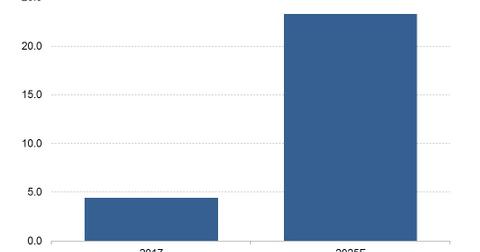 Amazon's Smart Speaker Business Runs into Trouble
By Neha Gupta

Updated
Calls for Amazon investigation over alleged privacy breach
A group of American lawmakers and child-advocacy groups are accusing Amazon (AMZN) of breaking a privacy law that protects children. A year ago, Amazon launched a smart speaker specifically for kids, the Echo Dot Kids Edition. The launch came after a National Public Radio study showed most households are purchasing smart speakers to entertain children.
According to The Wall Street Journal, lawmakers and advocacy groups want the Federal Trade Commission to investigate Amazon Amazon for violating the Children's Online Privacy Protection Act with the Echo Dot Kids Edition because it doesn't allow parents to delete children's private information captured by the device.
Article continues below advertisement
$23.3 billion up for grabs in the smart speaker market
Amazon is the world's top smart speaker company in terms of market share. It held 35.5% of the smart speaker market at the end of 2018, while Google (GOOGL), Alibaba (BABA), and Baidu (BIDU) held 30%, 7.3%, and 5.7%, respectively, according to Strategy Analytics.
ResearchandMarkets estimates that the global smart speaker market was valued at $4.4 billion in 2017, and forecasts it to exceed $23.3 billion by 2025. This attractive revenue opportunity is making the market crowded. Keen to grow its hardware business and diversify outside its core advertising industry, Facebook (FB) has also ventured into the smart speaker market—it launched Portal last year, a smart speaker with video-calling capabilities.