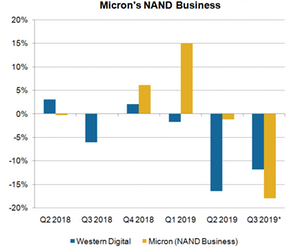 Will Western Digital's Earnings Bottom Out in Q3 2019?
By Puja Tayal

Updated
Western Digital hit by falling NAND prices
In the first-quarter earnings season, Western Digital (WDC) is likely to deliver the worst earnings among its peers, missing analysts' estimates by a wide margin.
Western Digital manufactures hard disk drives and flash solid-state drives and is the third-largest NAND (negative-AND) chip maker after Samsung (SSNLF).
WAKE UP WITH BAGELS & STOX, OUR NEW EMAIL THAT ENTERTAINS AND INFORMS YOU BEFORE THE DAY STARTS. SIGN UP HERE!
Since March 2018, the NAND market has been suffering from an oversupply situation, and weak demand has aggravated this situation. According to DRAMeXchange, NAND's first-quarter contract price fell 20%, the largest drop since early 2018. NAND's price fell on the back of weak demand in the server and smartphone spaces. Citing industry sources, DigiTimes also stated that Samsung had made significant price cuts to its NAND flash products to reduce excess industry inventory by March's end or early April.
Samsung has lowered its first-quarter revenue guidance. Micron's (MU) NAND revenue has fallen 18% sequentially as its ASP (average selling price) has fallen ~25%, its highest NAND ASP decline in more than four years. If we consider the market and competitors' statistics, we can expect Western Digital's earnings to bottom out in the third quarter of fiscal 2019.
Western Digital's fiscal 2019 third-quarter guidance
In the third quarter of fiscal 2019, WDC expects its revenue to fall 12% sequentially to $3.7 billion. However, we expect WDC's revenue to fall 20% sequentially to $3.36 billion, in line with its first-quarter NAND contract price decline of 20% and Micron's NAND revenue decline of 18%.
The NAND market is showing signs of improvement as rivals Samsung and Micron reduce their NAND capacity to control supply. DRAMeXchange expects second-quarter NAND prices to fall 10%–15% as demand picks up in the smartphone and server space. A slight recovery in NAND demand won't improve the oversupply situation, but it won't worsen it.
Investors' reaction to Western Digital's earnings
Investors should keep an eye on Western Digital's fiscal 2019 fourth-quarter guidance, as that's what will likely determine the stock's movements. WDC rose 30% in the first quarter despite its weak earnings due to the anticipation of demand recovery in the second half. In fact, WDC rose 8.9% a day after it announced its fiscal 2019 second-quarter earnings results.
If WDC reports strong guidance, we could see mid-single-digit growth in the stock's price (despite its weak earnings) on April 30, a day after its fiscal 2019 third-quarter earnings release.