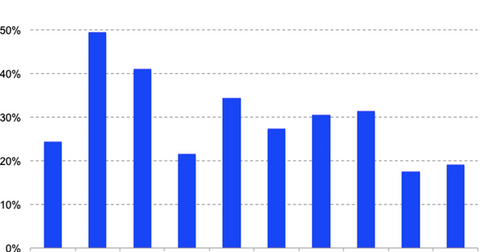 Why Apple Is Shutting Down Texture
By Sanmit Amin

Updated
Apple said it will be shutting down Texture
Apple (AAPL) acquired magazine subscription service Texture in 2018. Most people thought Texture would be a key part of Apple's News Plus subscription. However, the company said that it is killing the service next month. Texture announced that current users won't be able to move their preferences or stories' archive to Apple News Plus. The company suggested capturing screenshots instead.
Apple's move could be another attempt to reel in more people to its ever-growing ecosystem. However, some Texture subscribers, especially those with Android devices were not amused. Apple's free version news, Apple News, is successful. Apple's CEO Tim Cook said during the company's major event last week that Apple News users read five billion articles per month. Apple also disclosed earlier this year that Apple News had 85 million monthly active users.
WAKE UP WITH BAGELS & STOX, OUR NEW EMAIL THAT ENTERTAINS AND INFORMS YOU BEFORE THE DAY STARTS. SIGN UP HERE!
Article continues below advertisement
The latest services could boost Apple's Service revenue
Apple's move is the latest example of tech companies buying competitors and then killing them. Back in 2015, Apple acquired Beats Music for $3 billion and then shut it down after launching its own music streaming service.
Apple launched its $9.99 per month news service and unveiled many other services including its video streaming service, its push into gaming, Apple Arcade, and its own credit card at its event last week.
Apple hopes to build the businesses of tomorrow, as its core business is shrinking. These services will be a part of Apple's fast-growing Service division, which could be its next key growth engine.