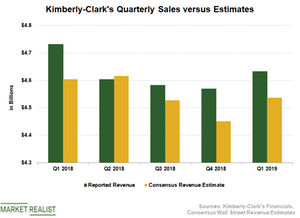 What's behind Kimberly-Clark's Strong Organic Sales?
By Amit Singh

Updated
Q1 sales surpass estimates
Kimberly-Clark (KMB) posted better-than-expected first-quarter sales thanks to the strong growth in its base business. Kimberly-Clark posted net sales of $4.6 billion, which decreased about 2% on a YoY basis, reflecting adverse currency rates. However, net sales topped analysts' estimate of $4.5 billion, driven by higher pricing and a favorable mix. Kimberly-Clark has now exceeded analysts' sales expectation in the past three quarters.
Article continues below advertisement
Kimberly-Clark's organic sales rose 3%, reflecting a 4% increase in pricing and a 1% benefit from improved product mix. However, volumes declined 2% and restricted organic sales growth. We expect an increase in pricing to support the organic sales of Procter & Gamble (PG), Colgate-Palmolive (CL), and Church & Dwight (CHD). Also, premium innovation should further support sales growth. However, currency volatility is likely to limit the top line of these CPG companies.
Q1 sales by segments
The Personal Care segment's net sales fell 1% to $2.3 billion, reflecting an adverse impact of 6% from currency volatility. However, organic sales improved, driven by higher pricing, an increase in volumes, and a favorable mix.
Within the Personal Care segment, sales increased 3% in North America, driven by strong volumes, innovations, and marketing support. Meanwhile, sales in the developing and emerging markets fell 5%, reflecting an unfavorable impact of 13% from currency volatility, and a 2% decline in volumes. However, net pricing and mix improved. Sales in the developed markets (including South Korea, Australia, and Western/Central Europe) decreased 6%, reflecting lower pricing and unfavorable currency rates.
Net sales in the Consumer Tissue segment decreased 3% to $1.5 billion in the first quarter, reflecting a 6% decline in volumes and an unfavorable impact of 3% from currency fluctuations.
Kimberly-Clark's net sales in the K-C Professional (or KCP) segment fell 2% to $0.8 billion, reflecting a negative impact of 4% from currency volatility and business exits. However, favorable pricing and product mix supported first-quarter sales.