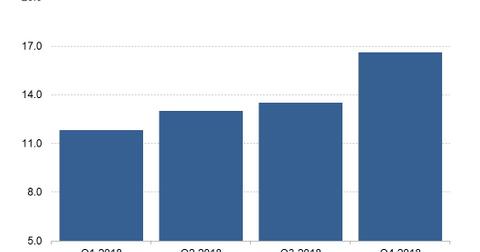 What Would Refunding Advertisers for Its Outage Cost Facebook?
By Ruchi Gupta

Apr. 1 2019, Published 9:26 a.m. ET
Facebook suffers worldwide outage
Facebook's (FB) social apps suffered a worldwide outage that lasted for several hours in March. Facebook's main social network and Instagram were hit the hardest by the outage. The main Facebook app reaches more than 1.5 billion people worldwide each day, according to the company's fourth-quarter update.
On its part, Instagram is accessed by more than 500 million people each day, according to audience updates released in June last year and cited by TechCrunch.
WAKE UP WITH BAGELS & STOX, OUR NEW EMAIL THAT ENTERTAINS AND INFORMS YOU BEFORE THE DAY STARTS. SIGN UP HERE!
Article continues below advertisement
Refunding advertisers for missed exposure
Facebook has considered refunding advertisers affected by the outage, Reuters has reported. Facebook generated $16.6 billion in advertising revenue in the fourth quarter, showing that it generated more than $5.5 billion in ad revenue in each month—which works out to ~$184 million per day. Assuming Facebook has to refund all its advertisers for a full day's loss of exposure, the bill could be in the vicinity of $180 million.
Facebook derives the majority of its revenue from ads
As much as refunding $180 million might be a big price to pay to appease advertisers, for Facebook, it's worth it. The company relies on advertising for the vast majority of its revenue. In the fourth quarter, for instance, advertising contributed more than 98% of its total revenue. Advertising contributed 83% of revenue at Alphabet (GOOGL) and 87% of revenue at Twitter in the quarter. Yelp (YELP), Baidu (BIDU), and Yandex (YNDX) derived 96%, 78%, and 76% of their revenues, respectively, from ad sales in the quarter.