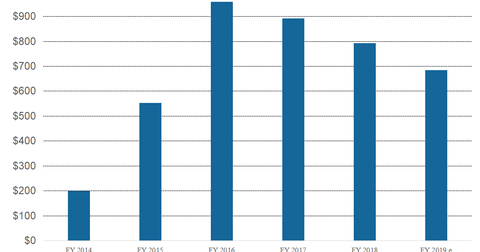 What Will Boost Fitbit's Sales and Profitability?
By Adam Rogers

Updated
New devices
Fitbit (FIT) continues to struggle in the growing wearables market. According to market research company IDC, Fitbit was the slowest-growing major wearables company in 2018. The company's device sales fell 10% compared to the industry's overall growth of 27.5% in 2018.
So what's likely to boost Fitbit's device sales and help it gain market share?
Article continues below advertisement
Last month, Fitbit announced the launch of four new devices. It expanded its Versa portfolio with the launch of the Versa Lite. The smartwatch category will be critical for Fitbit to drive demand and ramp up sales in 2019. The other products it launched were the Fitbit Inspire HR, the Fitbit Inspire, and the Fitbit Ace 2.
The wearables segment is expected to reach 189 million units by 2022, up from 125 million units in 2018. Smartwatches and fitness trackers are likely to drive growth in the wearables space, and Fitbit hopes that its recently launched devices will be a hit among consumers.
The Fitbit Versa Lite is priced at $159.95, while the Fitbit Inspire HR is available for $99.95. The Fitbit Inspire is priced at $69.95.
Operating expenses
Though Fitbit is struggling to grow its sales, it needs to focus on reducing its operating expenses to expand its bottom line. Fitbit expects to see an increase in its device sales, but this will come at the expense of a lower average selling price. The company's shift toward its growing smartwatch segment will also put a strain on its gross margin.
Fitbit aims to drive operating leverage with a target of reducing its operating expenses to between $660 million and $690 million, ~13.5% lower than its operating expenses of $793 million in 2018.