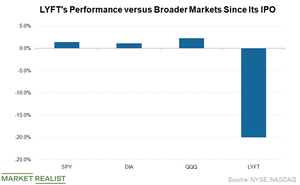 What May Have Prompted Carl Icahn to Sell His Stake in Lyft?
By Anuradha Garg

Apr. 4 2019, Published 8:08 a.m. ET
Lyft's stock plunge after IPO
Lyft's (LYFT) IPO got an overwhelming response from investors. Its stock opened 20% higher on March 29, its first trading day, before closing ~9% higher for the day. The investor enthusiasm for the stock has since been fading away. On April 1, the stock plunged 12%. As of yesterday, its stock price has plunged ~20% since its IPO on March 29 as compared to 1.4%, 1.1%, and 2.3% gains recorded by the S&P 500 (SPY), the Dow Jones Industrial Average Index (DIA), and the NASDAQ Composite (QQQ), respectively.
Article continues below advertisement
Investor skepticism about Lyft
Investors are probably skeptical about the high valuations for the stock given that it isn't expected to start making profits for a few years. Moreover, the company's road to profitability is unclear, adding to the stock's volatility. Some investors who might have gotten onto the IPO bandwagon due to fear of missing out might be reassessing their position and the inherent risk. Analysts are also wary about the stock's fundamentals.
As reported by CNBC, Guggenheim started coverage of Lyft with a "neutral" rating. Guggenheim analysts Jake Fuller and Ali Faghri said, "We simply have to look too far out with too many big assumptions in order to make a case for the stock." The analysts also don't like Lyft's lack of visibility regarding its path to profitability. On April 2, Seaport Global began coverage of the stock with a "sell" rating and a target price of $42.
Article continues below advertisement
Short sellers load up on Lyft
Short sellers have also gone full force on the stock. As CNBC reported, citing IHS Markit, short sellers are loading up on Lyft shares. They borrowed $455 million worth of Lyft stock. IHS Markit's Sam Pierson said, "New IPOs often attract short sellers, who seek to capitalize on falling momentum after an IPO. Timing is the key, which is why short sellers are often willing to pay extraordinary borrow fees for IPOs."
Given the current negative sentiment around the stock and given the fact that Carl Icahn would not have been able to cash in on his stake for six months after Lyft's IPO, it's probably a wise decision on Icahn's part to cash in on his stake prior to the IPO. The Wall Street Journal reported on April 3 that billionaire investor Carl Icahn sold his stake in Lyft ahead of its IPO to George Soros. While the exact price of the sale is not known, the investor is expected to have made a sizable profit given Lyft's valuation of ~$24 billion when it went public and its valuation of $2.5 billion in 2015 when Icahn first picked up the stake in the company.