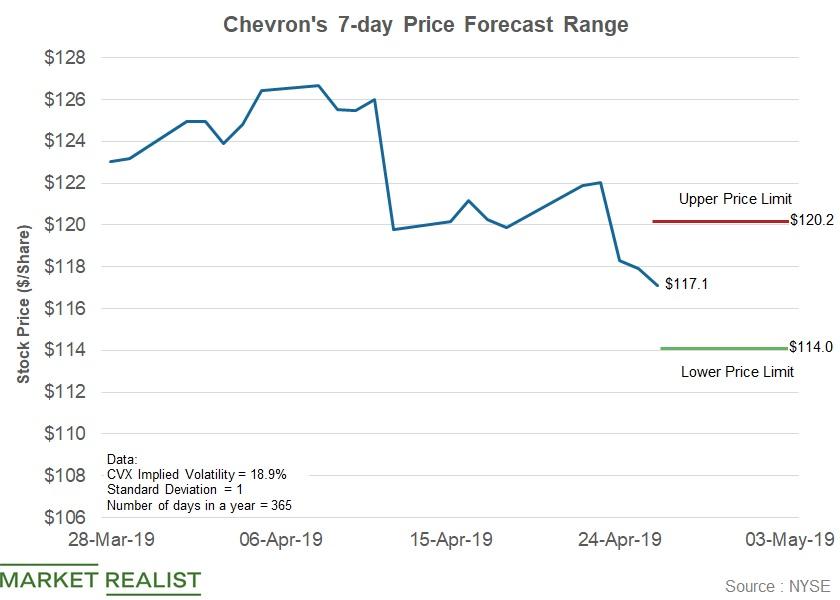 What Is CVX's Price Forecast Range following Its Q1 Results?
By Maitali Ramkumar

Apr. 29 2019, Updated 2:42 p.m. ET
Implied volatility in Chevron
Chevron's (CVX) first-quarter earnings fell due to its lower Upstream and Downstream earnings. Its stock reacted negatively to this news. Let's review how Chevron stock could trend in the next seven days ending on May 3, 2019. We'll also discuss the changes in implied volatility in Chevron on the day of its earnings release.
On April 26, Chevron's implied volatility fell by 2.1 percentage points to 18.9% compared to the previous day. This implied volatility was higher than its 30-day average implied volatility of 18.4%. On the day, Chevron stock fell 0.7%.
Article continues below advertisement
CVX's price forecast for the seven days ending on May 3
Considering Chevron's implied volatility of 18.9% and assuming a normal distribution of prices (using the bell curve model) and a standard deviation of one (with a probability of 68.2%), CVX could close between $120.2 and $114.0 per share in the seven days ending on May 3.
Peer comparison
The implied volatility in PetroChina (PTR) rose 0.3 percentage points over the previous day to 22.0% on April 26. The implied volatilities in YPF (YPF) and Eni (E) increased 3.0 percentage points and 1.0 percentage points, respectively, to 46.3% and 18.2%, respectively, on April 26.
If we consider these companies' stock prices on the day, then PetroChina, YPF, and Eni fell 0.7%, 4.1%, and 0.7%, respectively. The implied volatilities in these stocks and their prices moved inversely on April 26.