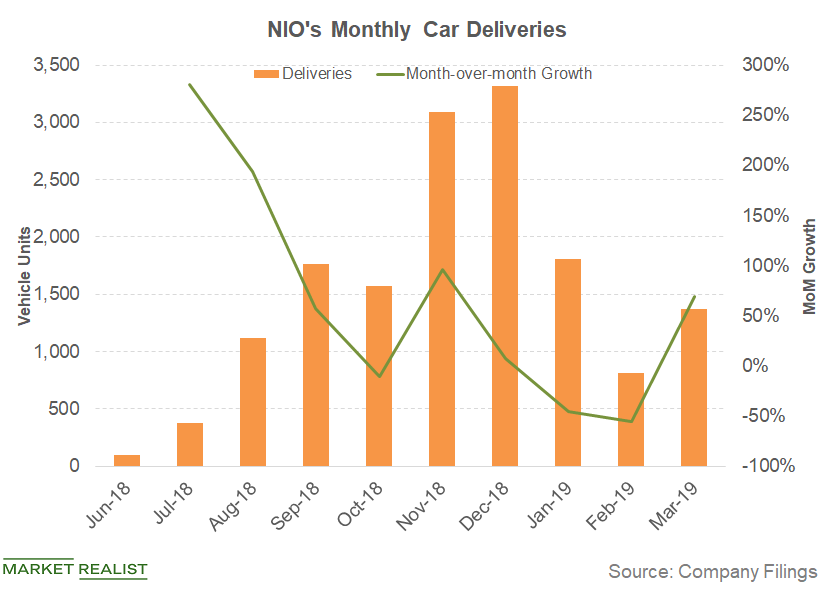 What Elon Musk Could Learn from NIO
By Jitendra Parashar

Apr. 2 2019, Published 1:04 p.m. ET
NIO versus Tesla
Chinese electric carmaker NIO (NIO) was founded in 2014, much later than its American peer Tesla (TSLA), which came into existence in 2003. In many ways, both companies are similar, as both exclusively produce electric vehicles only. Still, they're not quite the same.
NIO, which is commonly referred to as the Tesla of China, becomes quite distinguishable from the US carmaker when we consider their future outlooks. Let's find out why.
WAKE UP WITH BAGELS & STOX, OUR NEW EMAIL THAT ENTERTAINS AND INFORMS YOU BEFORE THE DAY STARTS. SIGN UP HERE!
Article continues below advertisement
NIO: Delivering more than expected
Tesla's CEO, Elon Musk, is known to be highly optimistic about the company's outlook and ability to grow—so much so that many shareholders have accused Tesla and Musk of exaggerating about the company's ability to produce cars on multiple occasions. Last week, a federal judge dismissed Tesla shareholders' allegations that "the company made misleading comments about the production status of its Model 3," Reuters reported. A similar lawsuit against Tesla and Musk was dismissed by a federal judge in August 2018.
In contrast, NIO seems to believe in underpromising and overdelivering. Earlier today, the Chinese (MCHI) company said that it had delivered 3,989 car units in the first quarter of 2019, reflecting a 50% sequential decline but a better result than its guidance of 3,500–3,800 units. The data have helped NIO stock surge nearly 7% today.
Similarly, in the fourth quarter of 2018, NIO guided for the delivery of between 6,700 and 7,000 car units. Later, the company revealed that it had crushed its car delivery guidance by delivering 7,980 units in the quarter.
Lessons for Tesla and Musk
While Musk's highly optimistic outlook initially helps TSLA rise, most of the stock's gains tend to be erased when the company underdelivers and misses its guidance, which has happened on many occasions. Tesla's consistently missing its guidance also hurts its credibility.
At a time when Tesla's car deliveries are growing quickly, it could be a good idea for the company and its CEO to keep investors' expectations low and deliver more.
Currently, JAC Motors produces NIO's electric cars on a contractual basis, which is helping NIO avoid the huge costs related to its car manufacturing plant's construction. NIO also has managed to attract investments from Chinese tech giants Tencent Holdings (TCEHY) and Baidu (BIDU).