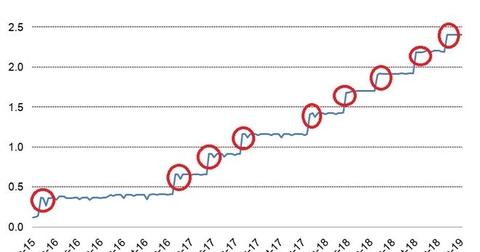 What Does Gundlach Have to Say about the Fed's Next Moves?
By Anuradha Garg

Updated
Jeffrey Gundlach on central banks
Jeffrey Gundlach presented his views on central banks' policies and how they impact investments during his interview with The Market, excerpts from which were reproduced by Zerohedge. Gundlach is of the view that central banks have been able to set short-term interest rates (IEF) (SHY), but now they've started to set long-term interest rates (TLT) (AGG) as well. In his opinion, this move creates malinvestment.
Article continues below advertisement
Gundlach surprised by the Fed's pivot
As we highlighted in the Fed's Dovish Stance Surprised Jeffrey Gundlach, Gundlach was surprised by the Fed's significant pivot without any major justification. After signaling two rate hikes in 2019, the Fed mentioned at the start of January that it will be patient with rate hikes. In its March policy meeting, it altogether abandoned the rate hike guidance for 2019. Gundlach commented on this, "So, it's all laid bare that the Fed's forward guidance is completely uninformed and can change 180 degrees in a very short period of time."
Fed and quantitative easing
As far as the Fed's next moves are concerned, Gundlach said that if the market forces are allowed to prevail, interest rates should go up even in the next downturn. He, however, feels that the Fed has already started talking about quantitative easing. This, he says, could happen even when the nominal GDP is at 5.3%.
Year-to-date, the equity markets have been broadly going up as the Fed changed its narrative to dovish at the beginning of 2019. As of April 15, the S&P 500 Index (SPY), the Dow Jones Industrial Average Index (DIA), and the NASDAQ Composite Index (QQQ) have risen 16.0%, 13.1%, and 20.1% YTD, respectively. NVIDIA (NVDA), Advanced Micro Devices (AMD), Micron (MU), General Electric (GE), and Microsoft (MSFT) have risen 38.4%, 48.0%, 31.8%, 23.4%, and 19.2%, respectively. While lower interest rates benefit stocks, markets are confused about the Fed's dovish rate hike outlook.