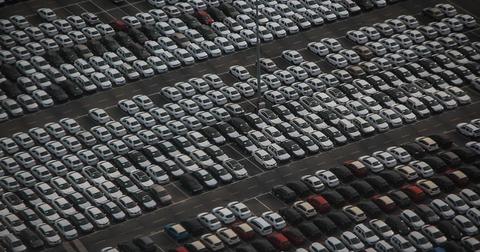 Trump's Car Tariff Threats Leave Auto Investors Confused
By Jitendra Parashar

Apr. 4 2019, Published 7:11 p.m. ET
Trump threatens Mexico
President Donald Trump is well known for being blunt when it comes to negotiating terms within or outside the United States. According to Thomson Reuters, on April 4, while talking to reporters at the White House, the president threatened to impose tariffs on Mexican-built cars coming to the United States if Mexico doesn't support America in dealing with the illegal immigration situation at the border between the two nations.
Trump then confused auto investors by saying that he's giving Mexico one year to take action before imposing the tariffs.
WAKE UP WITH BAGELS & STOX, OUR NEW EMAIL THAT ENTERTAINS AND INFORMS YOU BEFORE THE DAY STARTS. SIGN UP HERE!
Article continues below advertisement
Auto companies' worries
President Trump's new threats to Mexico came a few days after he threatened to close the US-Mexico border if Mexico didn't take appropriate action to stop illegal immigration immediately. Last week, he made the threat even more alarming for automakers by saying, "There's a very good likelihood that I'll be closing the border next week," USA Today reported.
On April 2, Trump's tone seemingly changed a bit, when he said in a tweet, "After many years (decades), Mexico is apprehending large numbers of people at their Southern Border, mostly from Guatemala, Honduras and El Salvador."
Why auto investors are confused
President Trump's threat to impose tariffs on Mexican-built cars coming to the United States temporarily erased some of the gains in auto stocks (SPY), including General Motors (GM) and Ford Motor Company (F), this afternoon. The news also temporarily extended the losses in Fiat Chrysler Automobile (FCAU) stock, which had already been trading in the negative territory before the president's statement.
Later, a more detailed statement by Trump, which indicated that he would give Mexico one year to take action, came as a relief to auto investors.
Auto companies including GM, Ford, and Fiat Chrysler still make some of their cars in Mexico before importing them to the US market.