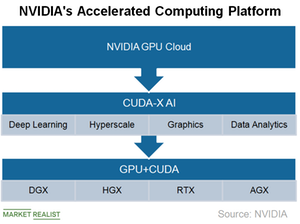 Today's NVIDIA Is What Intel Was in the 1990s
By Puja Tayal

Nov. 20 2020, Updated 4:18 p.m. ET
Computing accelerator versus accelerated computing 
NVIDIA (NVDA) has grown to be an investor favorite on the back of its strong data center growth. Initially, NVIDIA offered its GPUs (graphics processing units) as an accelerator for computing. An accelerator is a programmable device that can accelerate a particular function like video-encoding. There are several accelerators like ASICs (application-specific integrated circuit) and FPGAs (field programmable gate array) that can accelerate a particular computing task.
Article continues below advertisement
NVIDIA's GPU is what Intel's CPU was in the 90s 
Jensen Huang said that just like how Intel's (INTC) x86 CPU (central processing unit) can run everything, NVIDIA's general-purpose GPU can accelerate everything. Intel's CPUs followed Moore's Law, which states that the transistor density will double every two years, thereby improving the performance of a CPU. As long as Moore's Law worked, it was able to support the new software, which took two to four years to build.
However, Moore's Law slowed in 2016 and CPU computing could not offer the performance needed to run heavy workloads. Thus, it gave way to GPU accelerated computing, which can handle heavy workloads. This shift was when NVIDIA's data center revenue rose in the triple digits.
Jensen Huang stated that the drawback with Intel's x86 is it cannot run everything well. NVIDIA's GPU cannot accelerate one particular function as well as an ASIC or FPGA. Despite other accelerator options, data centers selected NVIDIA's GPUs because they offered the benefits of accelerated computing.
He stated that an accelerated computing platform is programmable, compatible with other systems, has a large installed base, and a rich software stack. NVIDIA's GPUs are programmable, and they run on CUDA. He called CUDA the Windows of GPUs, which means any application that runs on CUDA can run on any device that has CUDA. This flexibility offered by CUDA accelerated the adoption of NVIDIA's GPUs in the data centers.
Advanced Micro Devices (AMD) is looking to compete with NVIDIA in the data center GPU space with its Radeon Instinct GPU and is receiving a good response from customers.
Check out all the data we have added to our quote pages. Now you can get a valuation snapshot, earnings and revenue estimates, and historical data as well as dividend info. Take a look!