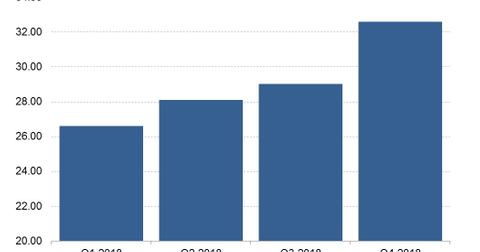 This Diminishing Business Could Cost Google $1.7 Billion
By Neha Gupta

Updated
Regulator claims violations continued for ten years
In March, the European Union's antitrust arm fined Alphabet's (GOOGL) Google ~$1.7 billion, marking the third time in a row that it's hit the Internet search giant with a heavy penalty on charges of misuse of its market dominance.
The latest fine relates to Google's AdSense business, which has actually been diminishing. The AdSense program allows publishers to display Google ads on their sites and get paid for it. According to the European Union's competition watchdog, some of the restrictions Google placed on publishers joining its AdSense program violated the region's antitrust rules, which resulted in the fine. The regulator asserted that Google's violation of EU competition rules had continued for ten years.
WAKE UP WITH BAGELS & STOX, OUR NEW EMAIL THAT ENTERTAINS AND INFORMS YOU BEFORE THE DAY STARTS. SIGN UP HERE!
Article continues below advertisement
Corrective changes are diminishing AdSense's value
Google has been making changes to address some complaints about its AdSense program, but those changes are diminishing the business. Google has been reporting declining revenue in its AdSense business in recent years.
Google doesn't report AdSense revenue as a separate item, but the program contributes to its advertising business. Google's advertising revenue rose 20% YoY (year-over-year) to $32.6 billion in the fourth quarter, with its advertising business contributing 83% to Alphabet's total revenue.
Advertising revenue rose 30% YoY at Facebook (FB) and 23% YoY at Twitter (TWTR) in the fourth quarter. Baidu (BIDU) and Yelp (YELP) recorded advertising revenue growth of 10% and 12% YoY, respectively, in the quarter.