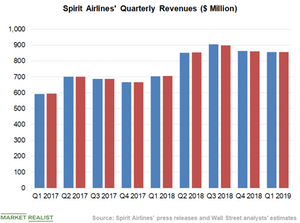 Spirit Airlines Expects Growth Momentum to Continue in Q2
By Anirudha Bhagat

Apr. 25 2019, Published 7:08 a.m. ET
Strong unit revenue outlook
Buoyed by its strong first-quarter performance, Spirit Airlines (SAVE) has provided impressive guidance for the second quarter, which suggests the company is confident about its growth prospects. The airline anticipates it will continue benefiting from its strategy of adding more flight and seating capacity, efficient cost management, and investment in customer service.
Ready to put your morning scrolling to use? Sign up for Bagels & Stox, our witty take on the top market and investment news straight to your inbox! Whether you're a serious investor or just want to be informed, Bagels & Stox will be your favorite email.
During the first quarter, the company took shipments of five new Airbus aircraft, four A320neo and one A320ceo, bringing its total fleet number to 133. Spirit Airlines anticipates increasing its seating capacity by 13% in the quarter to 10.8 million.
Spirit Airlines' capacity growth guidance for the second quarter is much higher than other major US air carriers (IYT). Delta Air Lines (DAL), United Airlines (UAL), and Hawaiian Airlines (HA) anticipate increasing capacities in the ranges of 4%–4.5%, 3.5%–4.5%, and 1.5%–3.5%, respectively.
Further, it projects the TRASM (total revenue per available seat mile) to grow ~5% YoY to 9.40 cents from 8.95 cents in the year-ago quarter.
Article continues below advertisement
Anticipates higher expenses
Nonetheless, the company expects higher ex-fuel CASM (cost per available seat mile) during the quarter. In an investor update, Spirit Airlines stated that it intends to increase the number of its crew members during the construction activity at Ft. Lauderdale airport's North runway part, which is expected to result in a 100-basis-point increase in ex-fuel CASM.
The company also disclosed that the cancellations of 318 flights on April 19 due to the severe storm would add approximately 150 basis points to its ex-fuel CASM. Therefore, Spirit Airlines anticipates its second-quarter total ex-fuel CASM to increase 4.6% YoY to 5.41 cents from 5.17 cents in the corresponding quarter last year.
Average fuel cost per gallon is anticipated to be $2.25, slightly lower from the year-ago quarter of $2.32. However, fuel consumption is likely to increase by 15% YoY to 122 million gallons due to the higher number of flights.
Apart from providing a second-quarter outlook, Spirit Airlines updated its guidance for the full year. The company now anticipates its ex-fuel CASM to increase in the range of 2%–3%, up from the previous forecast of 1%–2%. However, it has reaffirmed the capacity growth outlook of 15%.