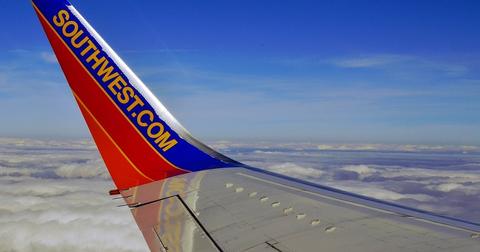 Southwest Airlines: Analyst Downgraded the Stock
By Anirudha Bhagat

Apr. 9 2019, Published 7:10 a.m. ET
Rating downgraded
Southwest Airlines (LUV) shares fell ~2.5% on April 8 after Raymond James lowered its rating on the stock. The downgrade was due to near-term risks to its earnings after Boeing's (BA) troubled 737 MAX series planes were grounded.
Article continues below advertisement
Raymond James has a "market perform" rating on the stock compared to the previous recommendation of "outperform." Raymond James also cuts its fiscal 2019 EPS estimate on Southwest Airlines by 5 cents to $4.40. However, the research firm clarified that it isn't negative on Southwest Airlines stock. Raymond James is waiting until it gets more clarity about the 737 MAX fleets.
Boeing's 737 MAX series planes have been grounded across the world. A similar plane operated by Ethiopian Airlines crashed on March 10 and killed all of the 157 people onboard—the second deadly crash in five months.
Primary investigations suggest a fault in the jet's flight-control system also known as the "Maneuvering Characteristics Augmentation System." Investigators think that the system might have automatically taken control during the Indonesian and Ethiopian plane crashes.
Although Boeing is working to fix the problem, several analysts think that it will take over six months to complete the tests and get final approval from the Federal Aviation Administration.
Currently, Southwest Airlines has 34 737 MAX 8 planes in its fleet—the highest among all of the US air carriers (IYT). The planes account for 4% of the airline's total passenger capacity. Grounding the aircraft will likely have a negative impact on the company's financial results.
Cancellations to drag earnings
In a regulatory filing on March 27, Southwest Airlines stated that it had to cancel ~9,400 flights between mid-February and March for multiple reasons. Among the 9,400 canceled flights, 2,800 were due to the ongoing trouble with Boeing's 737 MAX planes. The cancellations are expected to cost the company $150 million in first-quarter revenues. The airline (IYT) also lowered its unit revenue guidance to 2%–3% from 3%–4%.
American Airlines (AAL) has a fleet of 14 Boeing 737 MAX aircraft. United Airlines (UAL) doesn't own any of the planes. However, United Airlines has ordered 100 Boeing 737 MAX jets.