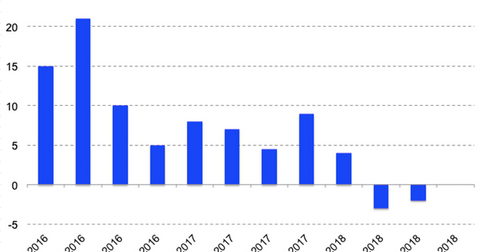 Snapchat Is Still US Teens' Favorite, but They Use Instagram More
By Sanmit Amin

Updated
Piper Jaffray's study suggested teenagers still love Snapchat
While Snapchat's (SNAP) daily active user base fell by 1 million in 2018, the social media platform has not lost its mojo with teenagers. A recent study by Piper Jaffray surveyed 8,000 teenagers in the US, with an average age of 16. Snapchat remains the favorite platform for teenagers. 41% of the teenagers surveyed said that Snapchat was their favorite social platform. However, that is down from 46% in the survey conducted last Fall with Instagram gaining ground on Snapchat.
Article continues below advertisement
Even though Snapchat remains their favorite platform, US teenagers use Facebook's (FB) Instagram more often than Snapchat. 84% of the teenagers surveyed said they use Instagram, while 81% said they used Snapchat. Over 500 million users use Instagram's Stories section on a daily basis, while Snapchat's entire platform has a daily active user base of 186 million.
Facebook continues to lose popularity among teenagers
However, Facebook continues to lose popularity among the so-called Gen Zers. Only 36% of those interviewed said that they use Facebook once a month, a steep decline from 52% in the fall of 2016.
Both Instagram and Snapchat have added interesting features to their platforms recently. Instagram now lets its users buy an advertised product they like on its platform, without leaving Instagram. Meanwhile, Snapchat is working on its own gaming platform, which could help retain its young users.