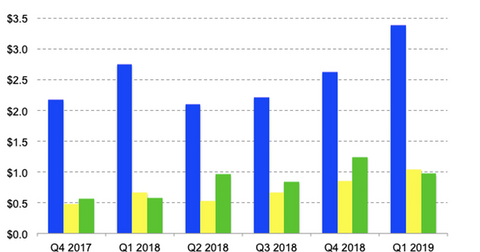 Snapchat Is Eking Out More Revenue per User in Developed Markets
By Sanmit Amin

Updated
Snapchat generated $1.68 per user in revenue
Snapchat's average revenue per user or ARPU declined sequentially in the first quarter. However, this comparison is unfair because the company's fourth quarter is, typically, by far its best.
Snapchat's ARPU globally grew 39% on a year-over-year basis, to $1.68 per user. However, its monetization is still way lower than Facebook's (FB) revenue per user.
Article continues below advertisement
Snapchat made $0.97 per user in the rest of the world, up 68% year-over-year
Unlike Facebook, Snapchat is able to grow not only its developing-world user base but also its ARPU in those markets. The company made $0.97 per user in markets outside North America and Europe, growing 68% year-over-year.
Like Facebook, Snapchat's most lucrative region is North America. During the first quarter, the company made $2.81 per user, growing 34% year-over-year. Meanwhile, in Europe, Snap (SNAP) made $0.77 per user, growing 47% year-over-year.
While the company managed to grow its user base in North America, its most lucrative region, and saw impressive growth in developed markets, Snap remains well behind Facebook in terms of monetization. The social media giant dwarfed Snapchat with an ARPU of $6.42 globally.
But these ARPU trends suggest that Snapchat's revenue will continue growing fast. However, the company's main problem is its profitability—or lack thereof. With the company likely to invest heavily in its newer services, it may not reach profitability for a while.