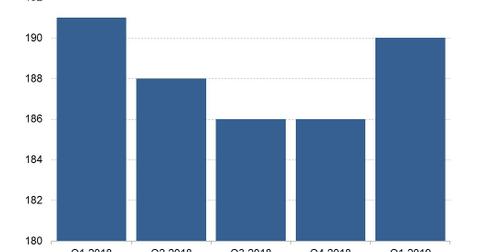 Snap Is Counting On Its New Snapchat App to Reverse Its Fortunes
By Neha Gupta

Apr. 30 2019, Published 11:41 a.m. ET
New app touted as 20% faster
Snap (SNAP) released its rebuilt Snapchat app for Android devices in the first quarter. The company chose to overhaul the Snapchat app for Android to overcome the limitations of the previous version and introduce changes to enhance the user experience.
According to Snap, the rebuilt Snapchat app for Android is 25% smaller and runs 20% faster than the previous app. Snapchat's uptake has been fairly good in developed countries such as the United States, where Snap's management disclosed recently that it reaches 75% of 13–34-year-olds in the country. In developing countries, where Android phones are the handsets the majority of people use to access the Internet (as they're more affordable for low-income populations), Snapchat's uptake remains limited. Snap is counting on the rebuilt Snapchat app to unlock its potential in the developing world.
Article continues below advertisement
Driving growth in the rest of the world
Snap closed the first quarter with 49 million Snapchat subscribers in the rest of the world, a term it uses to describe markets outside North America and Europe. Facebook (FB) exited the first quarter with 1.0 billion subscribers on its flagship social app in these markets.
To drive growth in developing countries, Facebook, Google (GOOGL), Twitter (TWTR), and Microsoft (MSFT) have taken to creating lightweight versions of their popular apps, which take up less space and can run faster on low-cost handsets.