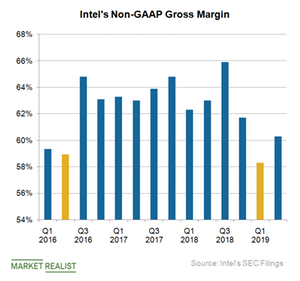 Should Investors Worry about Intel's Two-Year-Low Gross Margin?
By Puja Tayal

Nov. 20 2020, Updated 3:44 p.m. ET
Intel's profitability
Intel (INTC) is among the most profitable companies in the semiconductor industry. It earns profits by increasing its mix of high-margin PC and data center chips and reducing its production cost by transitioning to lower manufacturing nodes, which are cost-efficient. Intel earns over 50% of its profit from its PC business and more than 45% of its profit from the data center business.
Article continues below advertisement
Intel's first-quarter gross margin
In the first quarter, Intel's non-GAAP gross margin fell by 420 basis points sequentially to 58.3%, a level last seen in the second quarter of 2016.
Intel's gross margin is a product of average selling price, volume, and cost per unit. Intel had strong average selling prices as it prioritized the production of high-margin data center and PC chips amidst CPU supply shortage.
However, the supply shortage and weak data center demand reduced Intel's unit volumes by mid-teens sequentially. The gross margin also slumped as NAND prices fell ~45%, more than the anticipated decline of 25%–35%. Memory chip makers Western Digital (WDC) and Samsung (SSNLF) also reported weaker-than-expected margins due to significant declines in memory prices.
High 10nm cost
On the first-quarter earnings call, Intel's CEO Bob Swan stated that its gross margin was affected by 10nm costs. He explained that when the company transitions to a new node, the gross margin is strained in the early stages until the yield matures.
For the 58.3% gross margin, Swan stated that the strain is partially due to an accounting effect. Until products are qualified, the development cost is added to the cost of sales. As Intel looks to qualify its 10nm products in the second quarter, the 10nm development cost flowed into the first-quarter cost of sales.
Swan added that once products are qualified, the development cost is capitalized, which means this cost transfers to the balance sheet. He expects the second-quarter gross margin to improve to 60.3% as Intel capitalizes on its 10nm cost.
Swan explained that when units produced for qualification sell on the market, no cost is added, which inflates the gross margin. This effect means Intel's gross margin should improve significantly in the third quarter. However, he added that the gross margin would be a little lower in the fourth quarter as the company plans to ship more 10nm units than previously anticipated, which would impact its gross margin.
Check out all the data we've added to our quote pages. Now you can get a valuation snapshot, earnings and revenue estimates, and historical data as well as dividend info. Take a look!