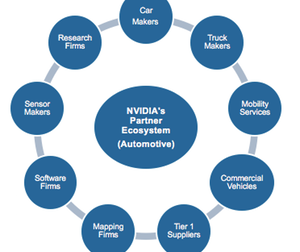 NVIDIA Offers Autonomous Vehicle Solutions for Everyone
By Puja Tayal

Updated
NVIDIA's end-to-end open automotive platform
NVIDIA (NVDA) aims to deliver an end-to-end open platform for carmakers to make AVs (autonomous vehicles). Through end-to-end solutions, the company provides complete hardware and software solutions from driving to training to validation.
For driving, NVIDIA offers DRIVE AGX hardware, an OS (operating system), and several SDKs (software development kits) for detection, perception, mapping, localization on a HD (high definition) map, and path planning. For training, it offers DGX supercomputers and cuDNN (deep neural networks) on which automakers can train their car computer. For validation, it offers DRIVE Constellation hardware.
Article continues below advertisement
Open ecosystem
NVIDIA has made its end-to-end automotive platform open, which means its partners can use already existing SDKs and tools or develop their own solutions on top of these tools.
At the 2019 Investor Day, NVIDIA's vice president and general manager of the Automotive business, Robert Csongor, explained that its ecosystem partners can use the complete end-to-end platform or only a few parts of the platform as per their requirements. This flexibility in the solution expands NVIDIA's automotive customer base. He gave the example of its Drive AP2X full autopilot Level 2+ solution, which is being used by three automakers, Continental, ZF, and Veoneer, at different levels.
Auto parts maker ZF is using NVIDIA's complete software solutions, whereas German automaker Continental is using only the perception part of the software and combining that with its own path planning and parking solutions. ADAS (Advanced Driving Assistance Systems) supplier Veoneer is developing its own software stack on top of the DRIVE OS software layer of CUDA, cuDNN, and TensorRT.
NVIDIA's flexible automotive solutions
The flexibility and various permutations and combinations of solutions NVIDIA offers help it expand its partnership ecosystem beyond auto and truck makers to mapping and software companies, auto suppliers, research companies, and mobility service providers.
Intel (INTC) is looking to compete with NVIDIA in the AV space by offering an end-to-end automotive solution from the data center to the car. Intel is acquiring technology to accelerate its development in the AV space. It has acquired ADAS provider Mobileye and is building visual computing technology. However, NVIDIA is ahead of Intel in the complete AV solutions space.
Check out all the data we have added to our quote pages. Now you can get a valuation snapshot, earnings and revenue estimates, and historical data as well as dividend info. Take a look!