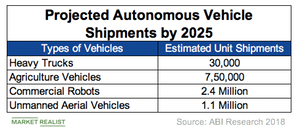 NVIDIA Expands Its Autonomous Vehicle Market
By Puja Tayal

Nov. 20 2020, Updated 2:19 p.m. ET
NVIDIA immune to declining auto sales
The global automotive industry is suffering from declining demand, which has affected sales of automotive chip giant NXP Semiconductors (NXPI). However, NVIDIA's (NVDA) automotive business is unlikely to be affected by this demand weakness, as it will benefit from expanding its AV (autonomous vehicles) solutions to trucks, robotaxis, and commercial vehicles like forklifts and earthmovers.
Article continues below advertisement
Trucks
At the 2019 Investor Day, NVIDIA's vice president and general manager of the Automotive business, Robert Csongor, stated that the trucking industry was suffering from poor productivity due to the driver shortage and the stipulated limit each driver is permitted to drive per day. He stated that NVIDIA's Level 2+ solutions will help increase the driving time, as the truck can drive itself for certain miles while the driver rests.
Commercial vehicles
Robert Csongor stated that NVIDIA realized that the accident rate is high for construction and industrial vehicles like forklifts and earthmovers. Automating these vehicles could reduce the accident ratio. He added that the agriculture industry in Japan is facing a shortage of farmers, creating a need for autonomous agricultural vehicles. There is also an opportunity for autonomous delivery bots that will be used to deliver packages.
All these opportunities will increase the number of vehicle units that could use NVIDIA's automotive solutions. It is working with Toyota and Volvo on AV, with Daimler on robo taxis, with ZF on forklifts, with Komatsu on earthmovers, and with JD.com on delivery bots.
Article continues below advertisement
NVIDIA's end-to-end solutions
Robert Csongor stated that NVIDIA started working on the automotive pain points by designing a supercomputer that will go inside the cars. As it worked through the process, it came across various challenges that needed to be addressed. NVIDIA realized that if it faced the problem, other companies would also face the same problem when developing their AV.
Necessity is the mother of invention. NVIDIA made several innovations while working through the challenges. It created MyRoute to help the car create its own route for areas where there are no HD (high definition) maps. It created Pegasus, which tells the driver what it sees.
Robert Csongor stated that the company is cashing out on these innovations and making them available individually or as a complete package to its automotive partners. This move could help automakers build from where NVIDIA stopped, thereby reducing the time to market. NVIDIA will benefit from more content per car.
Check out all the data we have added to our quote pages. Now you can get a valuation snapshot, earnings and revenue estimates, and historical data as well as dividend info. Take a look!