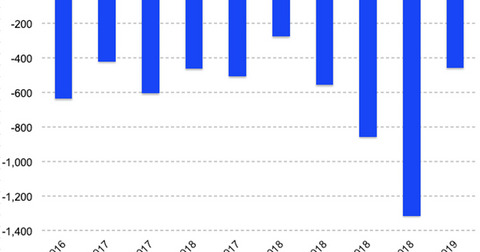 Netflix Is Raising Another $2 Billion in Debt
By Sanmit Amin

Updated
Netflix raised another $2 billion to find its investment in content
Netflix (NFLX) is adding to its already huge debt. The video streaming giant announced last week that it is raising another $2 billion in debt to fund its ever-growing content spending, along with other expenses. The company will soon be facing stiff competition from what it calls "world class consumer brands," Disney and Apple. Other media giants like Comcast's NBCUniversal and AT&T's Time Warner are also working on their own streaming services.
Article continues below advertisement
In the past, Netflix was dependent on the likes of Disney and Time Warner for some of its content like Disney and Marvel movies and the latter's popular sitcom Friends. Since both companies are now rivals in the streaming space, Netflix has already been ramping up its original content, as these movies and shows will either not be available for the company, like in Disney's case, or will be available at a premium.
Netflix is confident about its business
The company is expected to spend a whopping $15 billion on content this year. Its relentless spending on content over the past few years has led to a huge library of quality content, which will take years of spending to match.
However, the company now has over $12 billion in long-term debt, apart from the billions in debt it has outside the balance sheet. The company has been resorting to the debt market frequently, which shows that Netflix is confident that its business will do well in the future and that it will be able to pay off its debt.
Netflix hiked prices across all plans in the US recently. The company may hike its subscription rates further in order to be in a position to pay off its debt. The streaming giant said recently that its free cash flow in 2019 is likely to be worse than it expected at ~-$3.5 billion. Netflix forecasted that its free cash flow position will improve from 2020 onward driven by its growing subscriber base, revenue, and operating margins.