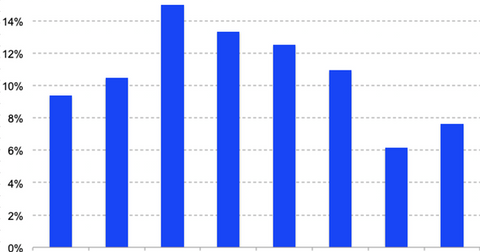 Netflix Is Facing More Headwinds at Home
By Sanmit Amin

Apr. 17 2019, Published 1:02 p.m. ET
Netflix added 1.74 million subscribers in the United States
Netflix (NFLX) added 1.74 million paid subscribers in the first quarter of 2019, bringing its US subscriber count to 60.22 million. Netflix's domestic market accounts for only 40.4% of its total paid subscribers.
It's been obvious for a while that Netflix's US base is close to saturation. The company's paid subscriber base grew just 7.6% YoY (year-over-year) in the first quarter. This performance was slightly better than the 6.2% YoY growth it saw in the fourth quarter of 2018, but its domestic market growth was clearly superior earlier on.
Article continues below advertisement
Netflix expects to add only 300,000 paid US subscribers in the second quarter
The company expects its US subscriber growth to slow further. Netflix estimates that it will add only 300,000 paid subscribers during the second quarter, which has disappointed investors.
Netflix's price hikes across all its US plans could boost its revenue. However, its slowing subscriber growth at home could more than offset this boost in the coming quarters.
Netflix makes more money per paid subscriber in the United States than it does in international markets. In the first quarter of 2019, it made $34.43 per paid subscriber in the United States compared to $26.7 per paid subscriber overseas, where it's seeing tremendous growth.
Netflix will face stiff competition as streaming choices increase
While Netflix may have established a loyal subscriber base back home, it will soon face fierce competition, particularly domestically. Apple and Disney have already unveiled their respective streaming services.
Other media giants, such as Comcast's NBCUniversal, have also announced their intentions to launch their streaming services in the United States. These media giants could hurt Netflix by stripping their content from Netflix, as Disney will, or by charging Netflix a much higher fee to acquire their content. While Netflix is still the clear leader in the United States, headwinds are increasing in the country.