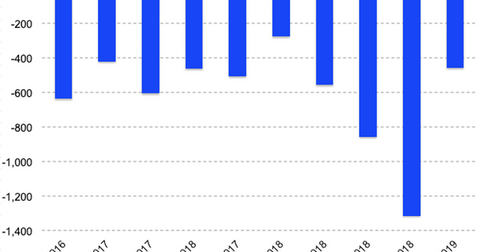 Netflix Expects Its Negative Free Cash Flow to Increase This Year
By Sanmit Amin

Apr. 17 2019, Published 1:02 p.m. ET
Netflix saw cash flow of -$460 million in the first quarter
Netflix (NFLX) has been burning cash to create original content and acquire content. This push may be intensifying as it prepares to compete with the likes of Apple and Disney.
Netflix said that its FCF (free cash flow) fell in the first quarter of 2019 to -$460 million from -$287 million in the same quarter last year. The video streaming giant's FCF was as low as -$3.01 billion in 2018 compared to -$2.0 billion in 2017.
Article continues below advertisement
Why negative FCF isn't necessarily a bad thing
Netflix said in its recent letter to shareholders that its FCF this year is likely to be worse than expected at ~-$3.5 billion. However, the company still expects its FCF position to improve from next year onward driven by its growing subscriber base, revenue, and operating margins.
Netflix has been spending over $8 billion annually on content over the last couple of years. Even though this has had an adverse effect on its cash flow in the short term, the strategy is necessary to provide it with enough quality content to retain subscribers and compete with its ever-increasing number of competitors.
The company's long-term debt now stands at $10.3 billion, and it also owes billions of dollars in off-balance-sheet debt. This debt has been worrying investors, especially with interest rates rising.